Politics
45 Hilarious Tweets About The Things We Believed As Kids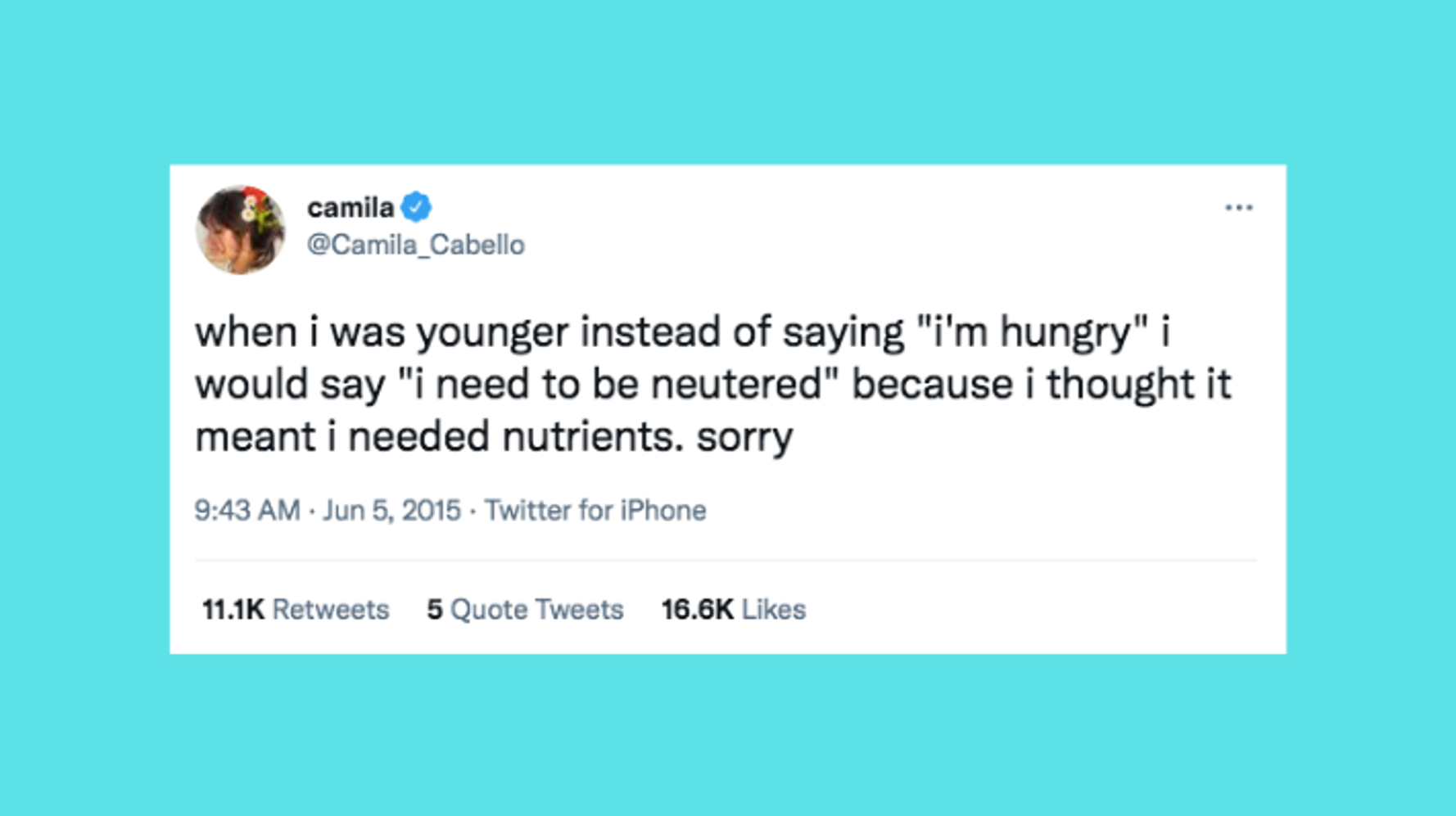 Children are highly impressionable or, as some may say, gullible.
So it's only natural that they internalise the myths and little white lies they hear from parents, peers and the media. And their own brains are often the source of funny assumptions and misconceptions, as the funny folks on Twitter have revealed.
We've rounded up 45 hilarious tweets about the things people believed in their younger years.
being DRAGGED by my coworkers bc i told them that when i was a kid i thought all dogs were boys and all cats were girls 🙁

— Jessica Roy (@JessicaKRoy) July 29, 2019
When I was a kid I was scared of tube slides if I couldn't see the bottom because I was convinced I'd round a bend and hit a buildup of kids stuck in the slide and then be crushed by more kids sliding down on top of me

— Jenny Nicholson (@JennyENicholson) February 5, 2021
When I was a little kid, I thought "This little pig went to market." meant it went shopping. 😂

— Dawna (@VaGyver) February 9, 2021
when i was a kid i believed because of black and white movies that there use to not be color in the world and i asked my parents when color happened.

— Dadman Walking (@dadmann_walking) July 29, 2020
Kids movies really made me believe that the greatest threats on earth were dogcatchers and quicksand

— Megan Amram (@meganamram) November 13, 2019
I can't believe I grew up thinking that the cast of "Grease" was anywhere near the ages of high schoolers.

— Morgan Jerkins (@MorganJerkins) January 11, 2021
Grew up thinking it was a "wheelbarrel." Still not ready to let go.

— Kim Holcomb (@kimholcomb) August 7, 2014
Why did my momma make me think it was illegal to turn a light on in a car while you were driving throughout my whole childhood

— A R I D O N D A D A P I N K (@ARIDONDADA) February 6, 2017
who else grew up thinking the iron curtain was a real geographical feature, like the great wall but more iron-y?

— rachelle mandik 🕳 (@rachelle_mandik) June 7, 2016
#AsAChildIUsedToThink My dolls and stuffed animals came to life when I left my room so I used to open the door REALLY FAST trying catch em!

— Iamwatertribe 50ft from you 😷 (@iamwatertribe) January 22, 2016
When I was very young, I believed the only two languages were English and French. Every language that wasn't English became french. Pingu spoke french. When my Punjabi grandpa called his sisters in India, he talked to them in french.

— Anna Fitzpatrick (@bananafitz) May 11, 2018
my cousin convinced me that the lyrics to Blue by Eifeel 65 were "i'm blue if i were green i would die" and i'm a better person today bc of this

— kim (@KimmyMonte) February 16, 2020
when i was younger instead of saying "i'm hungry" i would say "i need to be neutered" because i thought it meant i needed nutrients. sorry

— camila (@Camila_Cabello) June 5, 2015
Fun Friday question:
What is something that you thought was fancy growing up that really isn't as exclusive as you remember?
Me: roses. I saw them in movies, wedding bouquets, and yards with great big houses. My whole childhood, I believed that only rich people had roses.

— Kelly Phillips Erb (@taxgirl) January 17, 2020
Thanks to Mrs. Pacman, I grew up thinking a pretzel was a fruit

— Darin Loves Bacon (@darinlovesbacon) September 7, 2017
i grew up thinking a shotgun wedding was an event where two guns got married

— rachelle mandik 🕳 (@rachelle_mandik) September 21, 2018
😂

I used to believe the vacuum was an indoor lawnmower.

Meaning, I was convinced that the carpet grew like grass and we were keep it trimmed by vacuuming.

— ꧁𝐸𝒾𝓁𝒶𝓉𝒶𝓃🇧🇧𝟠𝟟꧂ (@Eilatan87) March 9, 2019
When I was a child I strongly believed that if a car hit me and my dad, as long as it hit my dad first, I would be okay because my huge dad would stop the car, and I would ponder whether it would hurt my dad and decide he would probably be bruised.

— Sandra Newman (@sannewman) January 25, 2021
#AsAChildIUsedToThink that brown cows produced chocolate milk

— Tazreen Tasnim (@tazreentasnim) January 22, 2016
when i was younger i thought 50 cent was saying "mini men wish death upon me" and i didn't understand why little people wanted 50 cent dead

— Meech (@DemetriusHarmon) February 18, 2019
i miss when i was little n i thought my heart was heart shaped

— ✿ ⁺ . ・ (@harlequinlamb) December 23, 2020
When I was a kid, my dad convinced me that the Ice-cream truck only played music when it was sold out….Well played Dad, well played

— Anthony Isaacs (@iSpeakComedy) February 28, 2012
Shout out to everyone who grew up thinking a certain fruit was "spicy," only to find out later that was an allergy

— Pigeon Fancier (@isabelzawtun) March 24, 2021
Now wonder I'm a mess. I grew up thinking I had a chance w/ Elton John.

— Sarah Thyre (@SarahThyre) April 27, 2012
I thought this was the coolest invention ever when I was younger.. even though it ripped 15% of my hair out 😕 pic.twitter.com/AtqiLGbMoU

— Bethany Mota ∞ (@BethanyMota) August 20, 2014
i grew up thinking gestapo and gazpacho were the same thing, and i'm pretty much terrified of cold soup to this day

— rachelle mandik 🕳 (@rachelle_mandik) June 26, 2018
My friend's mom used to say she was the Gerber baby and I believed her up until her annual Christmas party last year when she said, "You believed that??" and laughed in my face over canapés.

— 🥴steph🥴 (@eff_yeah_steph) June 24, 2019
My grandpa used to tell me he was a spy for the president and I told my entire class that for show & tell. https://t.co/7cwpulqE0g

— bailee ann (@bailee0723) August 3, 2017
When I was a child I fervently believed I was a fox in my last life and I spent about a year researching ways of ensuring I would again be a fox when I died, and I could not for the life of me understand why adults had written so little on this crucial topic.

— Sandra Newman (@sannewman) October 19, 2020
I grew up thinking proposals were these massive surprises but in reality it's like "we talked about it for a year and I designed my engagement ring and I told them exactly how I wanted to be asked"

— Jenny Jaffe (@jennyjaffe) February 20, 2021
When I was younger I thought people had sex simply by rubbing on one another

— Jai Brooks (@JaiBrooks1) August 21, 2015
Thanks to a 1996 episode of Friends, many of us grew up believing Chris Isaak's Wicked Games was the sexiest song of them all for too many years of our young lives.

— Anne T. Donahue (@annetdonahue) July 25, 2018
My mom convinced me that the crusts of bread are where all the vitamins are.

— 😷 Suze Stays Home 😷 (@suzemuse) March 9, 2019
I didn't really lie as a kid but I was VERY gullible. My sister told me boys start getting their periods in 1st grade and I'd probably get mine during a book report because it always happened at the worst times. It sent me into a total panic.

Anyway that's why I'm trans. https://t.co/QfP1yUfAfo

— Drew Gregory (@draw_gregory) April 15, 2020
Please tell me I'm not the only one that thought the moon was following me when travelling at night when I was a kid ???

— Aaliah Charles (@aaliah_charles) April 22, 2014
My mom told me that if I kept sucking my thumb it would fall off. I was absolutely SHOOK

— Billie 🌸 $3 OF SALE ✨ (@Billiedawnwebb) March 9, 2019
let us return to a simpler time, such as when i believed the word "kerchoo" flew out of your mouth when you sneezed but it could only be seen by other people

— rachelle mandik 🕳 (@rachelle_mandik) March 6, 2018
My entire adolescence I was convinced my life would be infinitely better if I would only grow boobs. As an adult who just had to fish a bunch of almonds out of my bra, I see how dumb and misguided I was as a flat chested youth.

— Tanis Miller (@tanis_em) May 11, 2020
I'm not joking guys, Home Improvement had me believing that my neighbors would give me quality child rearing advice instead of giving me the side eye over my back fence because my kids aren't awesome about wearing pants.

— No Idea: Daddy Blog (@byclintedwards) September 23, 2020
If you unscrewed your bellybutton, then your butt would fall off… #DumbThingsIBelieved

— oorannob (@jvbt82hhs) August 5, 2018
My grandpa had a well on his property, and when my mom told me I thought she meant there was a whale underneath the ground that shot up water from its blowhole for my grandpa to drink

— Manda 🌙 (@AhManDuh_) March 9, 2019
I talk a lot of shit for someone who grew up thinking Robin Hood was a fox.

— Slightly funny Jew (@Dani_Feld) April 30, 2014
CSI made me believe I could be a scientist who also interrogated murder suspects and combed through crime scenes before uncovering a conspiracy and now all I have left are investigative podcasts.

— Anne T. Donahue (@annetdonahue) October 29, 2019
My kids grew up thinking sharks say "dun-nuh, dun-nuh" the way that dogs say "woof"

— The Dad (@thedad) July 25, 2018
You think your day is going bad? A child somewhere just swallowed a watermelon seed and believes a watermelon is going to grow Inside him.😂

— 𝕸𝖔𝖉𝖆𝖉𝖊 (@Modade_) April 16, 2020