Politics
Andrew Garfield And Interviewer Have Sizzling Red Carpet Flirtation — Twice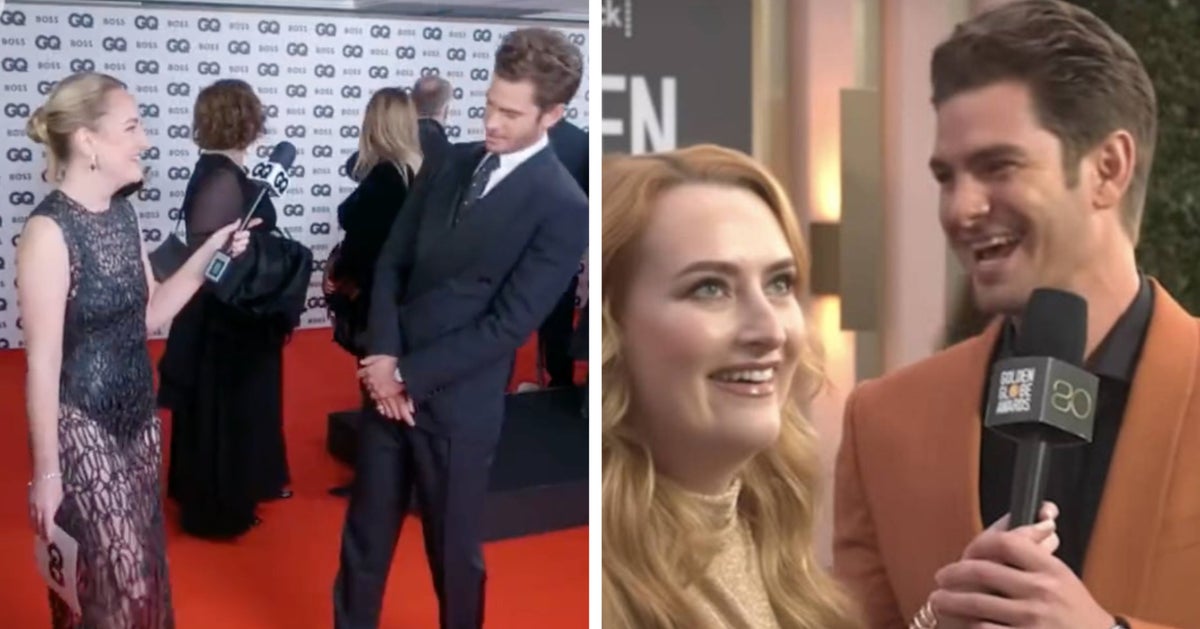 Who knew conversations about armpits and astrology could be so tantalising?
British media personality Amelia Dimoldenberg, best known for her YouTube series Chicken Shop Date, deployed her trademark awkwardness and expert flirting skills while interviewing Andrew Garfield at two separate red carpet events recently — and their chemistry is off the charts.
Chicken Shop Date is a popular YouTube series in which Dimoldenberg takes different celebrities like Jack Harlow, Ed Sheeran and Daniel Kaluuya to notoriously unsexy fried chicken joints for hilariously clumsy "dates."
In November, Dimoldenberg got a gig interviewing celebrities on the red carpet for GQ's Men of the Year Awards. It was there that Garfield approached her to tell her he was a fan.
After some back-and-forth, Dimoldenberg then tells Garfield that she's been trying to get a "date" with him "for a while."
"I'm asking you out right now," Dimoldenberg said, shooting her shot to get Garfield on her show, but also perhaps insinuating a real date.
"You do date a lot of people," the The Amazing Spider-Man star said bashfully.
"Yeah, and?" Dimoldenberg shot back.
"Oh no, it's wonderful," Garfield said. "It's just like, I don't know. I just feel less special, I guess."
"No way, you are the most special," Dimoldenberg said.
"Right," Garfield said nervously laughing. "You say that to every single person."
"No, I don't. You're the first person I've called special tonight — especially your armpits," Dimoldenberg said, referring to a GQ cover story of Garfield in November, which includes photos of the the Under The Banner Of Heaven star shirtless, with his arms raised, and appearing to be sniffing himself.
After Garfield admits that he hated that photo and almost asked the magazine to "kill it," Dimoldenberg tells him that it was her "favourite image" from the shoot.
"It's the background on my phone," she says.
Garfield then asks if she has an armpit fetish, and after some more adorable back-and-forth, Dimoldenberg says: "Look, I'm giving you a compliment, you look really good, just take the compliment."
"You look lovely as well. You look very beautiful," Garfield says before leaning to the side to check her out.
The two met again on the Golden Globes red carpet on Tuesday, and their banter hit its boiling point.
"We must stop meeting like this," Dimoldenberg says to Garfield cheekily in a video of the encounter.
"I only ever want to see you," Garfield says, slightly flustered.
"What?" Dimoldenberg responds.
"That's not the end of the sentence!" Garfield says, placing his hands over Dimoldenberg's on her mic.
"I only ever want to see you in these kinds of situations," Garfield says.
"What about other kinds of situations?" Dimoldenberg asks, before the two get into a conversation about how their astrological charts are so complementary that Garfield said he was "scared" of what exploring other situations with Dimoldenberg "would turn into."
So, maybe the two should go on a chicken shop date — off camera.