Politics
BBC Breakfast's Charlie Stayt Savagely Pokes Fun At Robert Jenrick's 'Small Flag'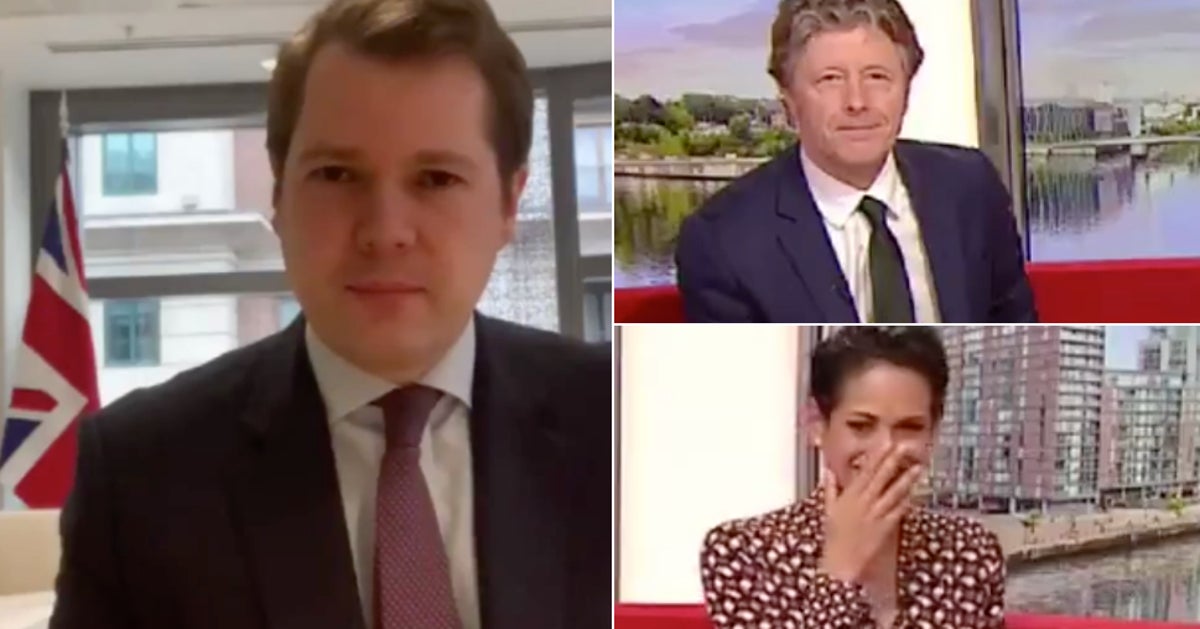 It seems Robert Jenrick doesn't measure up to his fellow ministers in the flag department – or, at least, that was the assessment of BBC Breakfast presenter Charlie Stayt on Thursday. 
The daytime presenter couldn't help but notice that the secretary of state for housing's Union Jack was lacking in size compared to his peers, as the minister was interviewed on the programme via video link from his office. 
After concluding the interview, Charlie cheekily remarked: "I think your flag is not up to standard size, government interview measurements.
"I think it's just a little bit small, but that's your department really."
The comments prompted some stifled giggles from Charlie's co-host Naga Munchetty, who was seen struggling to compose herself
"Just a thought," Charlie insisted. "You'll be aware, we've seen every day, it's a stock thing, isn't it?"
Naga agreed: "There's always a flag. They had the picture of the Queen though. In the Westminster office, I'm assuming." 
It wasn't just Naga who Charlie had made laugh though…
I saw this interview on BBC Breakfast this morning . It was fairly standard until the very end, when Charlie Stayt commented on the size of Jenrick's flag. The look on Naga's face was a picture 😊😊😊

— highwayman76WOKE #FBPE🇬🇧🇪🇺🥃💙 (@highwayman7611) March 18, 2021
Lovely little dig at the government's flag fetish at the end of Charlie Stayt's interview with Rob Jenrick. Beautifully delivered @BBCBreakfast#BBCBreakfast

— Vinnie Shaw (@HistoryShawV) March 18, 2021
A withering put down. First time in a while #BBCBreakfast has made me laugh out loud

Well done Charlie and Naga, it's about time someone started openly mocking Robert Jenrick and his mates over this recent flag frenzy

— Adrian Gosling (@digitalsunshine) March 18, 2021
My ridiculous MP Robert Jenrick getting owned about his stupid flag by Charlie Stayt. Excellent. #bbcbreakfast

— Rich Goodall (@ErnstScribbler) March 18, 2021
Jenrick seething behind the smile, someone in his flag procurement office is for a right bollocking.

— Tony Grey. 💙 (@geordietone17) March 18, 2021
That was very funny. Charlie Stayt telling Robert Jenrick that his flag is just a little bit small and 'not up to normal government standards'. 'But that's your department really…' @BBCBreakfastpic.twitter.com/IJNgf5xfYY

— Andy Westwood (@AndyWWestwood) March 18, 2021
BBC Breakfast airs daily at 6am on BBC One and BBC News.