Politics
Ben Wallace Jumps In To Defend Nadine Dorries After Her Old Tweets Go Viral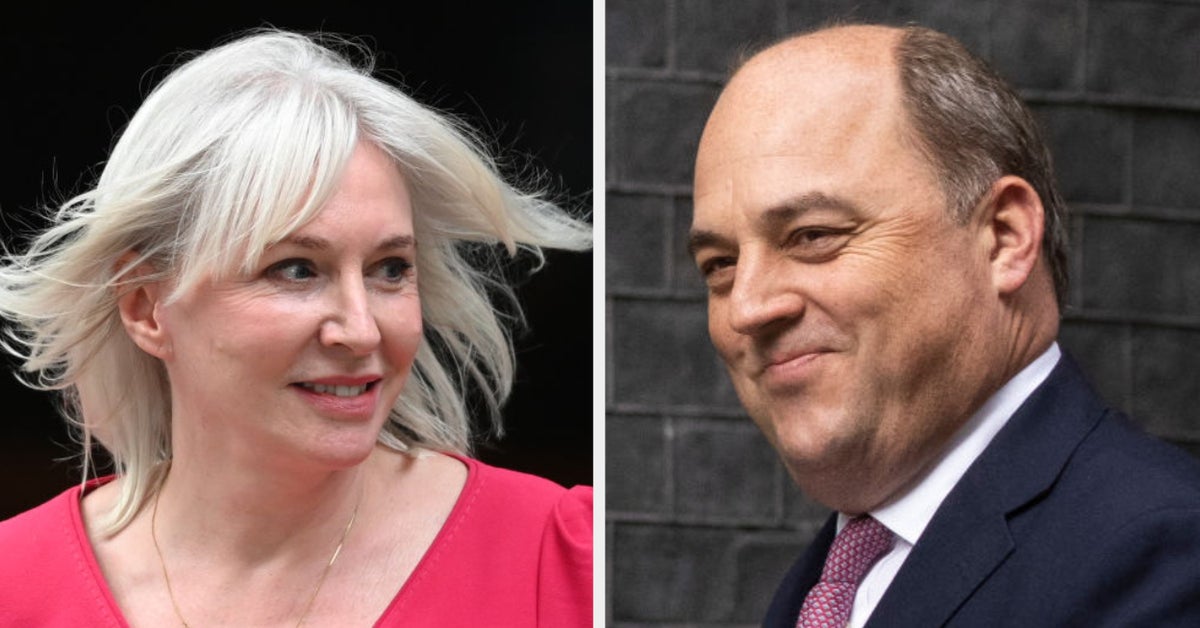 Getty

New culture secretary Nadine Dorries and defence secretary Ben Wallace
Ben Wallace backed up his colleague Nadine Dorries as the new culture secretary on Thursday after her controversial beliefs were unearthed online.
The defence secretary told Sky News that Dorries – who took over from Oliver Dowden in Wednesday's cabinet reshuffle – would excel in her new role because of her history as a best-selling author.
He said she would be a "solid and capable" minister in Boris Johnson's cabinet, explaining: "Nadine Dorries is a best-selling author.
"She has sold thousands and thousands of books, now if that isn't part of culture, media and sport, I don't know what is.
"What's great about Nadine Dorries is she produces a culture that people buy and actually want to see rather than some of the more crackpot schemes we have seen funded in the past by taxpayers' money. She will bring realism to it."
Dorries' books, often set in her hometown of Liverpool, have led to her claim more than £125,000 between September 2020 and May 2021 in royalties according to the most recent parliamentary most recent register of members' interests.
As a backbencher, Dorries has caused major upset online – particularly within the culture sector.
She has previously accused the BBC of left-wing bias, and tweeted in 2017 that "left-wing snowflakes are killing comedy" and "suppressing free speech".
She will now be overseeing the privatisation of Channel 4 in her new role.
Dorries has been accused of both homophobia and racism too.
Tweeting about the legalisation of gay marriage, she asked: "If gay marriage bill takes sex out of marriage could a sister marry a sister to avoid inheritance tax?"
She has since said she now supported same-sex marriage.
Then in 2013, she tweeted: "Apparently I'm racist because I think Chuck Umunna looks like Chris Eubank? What would I be if I said he looked like someone who was white?"
In 2019, she also muddled up commentator Ask Sarkar with Labour activist Faiza Shaheen – a moment Sarkar recalled in a brutal tweet on Wednesday congratulating Penny Mordaunt, not Dorries, for becoming culture secretary.
Former Conservative MP Anna Soubry also tweeted: "The appointment of Nadine Dorries as culture secretary is final confirmation (if you needed it) that we do indeed have the worst prime minister and government ever. Ever."
As Labour MP David Lammy noted: "Boris Johnson has booted out Gavin Williamson who could not tell the difference between Maro Itoje and Marcus Rashford.
"To fill the role of secretary of state for not recognising black people, he has appointed Nadine Dorries. This is so depressing in 2021."