Politics
Boris Johnson Accused Of Breaking Ministerial Code With 'Political' Attack On Sadiq Khan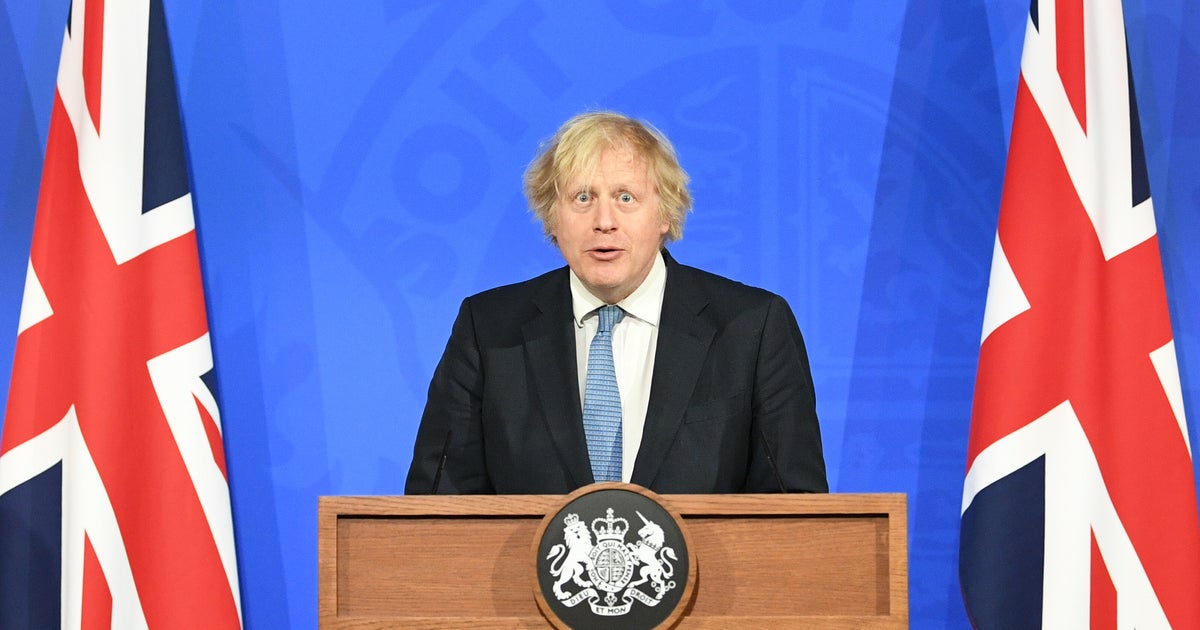 Stefan RousseauPA

Prime Minister Boris Johnson, during a media briefing in Downing Street, London, on coronavirus (Covid-19). Picture date: Monday April 5, 2021.
Boris Johnson broke ministerial rules and misled the public when he launched on "unprompted political attack" on Sadiq Khan using the government's new £2.6m Downing Street press room, Labour has said. 
The prime minister was reaching the end of a televised briefing on the Covid pandemic when he made false claims about the London mayor and Transport for London (TfL) budget. 
Johnson, Khan's predecessor at City Hall, claimed he left TfL's finances in "robust, good order", and the current mayor had blown a "black hole" in the budget with a fares freeze. 
The complete collapse in passenger numbers since Covid hit, however, has seen government agree a £1.6bn bailout in May, followed by a £1.8bn deal in November.
A TfL report published a month before Johnson left office in 2016 also showed TfL had a nominal debt of £9.1bn.
Labour deputy leader Angela Rayner has now written to cabinet secretary Simon Case calling for him to investigate and for the PM to apologise. 
She alleges Johnson broke the ministerial code by using government resources – the Downing Street press room – for political campaigning during an election period. 
It comes ahead of local elections in May, including at City Hall. 
The code, which governs ministers' conduct, states: "Official facilities and resources may not be used for the dissemination of party political material".
Boris Johnson doing what he does best and demeaning the office of Prime Minister as usual by attacking @SadiqKhan during a Covid press conference.

He lied again. Before the pandemic Sadiq was fixing Boris Johnson's mess – reducing TfL's deficit by 71% compared to what he left.

— Angela Rayner 😷 (@AngelaRayner) April 5, 2021
Rayner writes: "The attack was political in nature, unprompted, and entirely unrelated to either the topic of the press conference or the question the prime minister was asked." 
The deputy leader also hit out at Johnson's decision not to sack home secretary Priti Patel after a formal investigation found evidence that she bullied civil servants. 
Ethics adviser Alex Allan quit after Johnson ruled Patel should stay in post. 
Rayner said: "The ministerial code, by which government ministers are bound, clearly states that official facilities and resources may not be used for the dissemination of party political material.
"This includes the prime minister's new media briefing room, which cost the British taxpayer £2.6 million.
"The prime minister has a lot of experience with the ministerial code – his home secretary was found to have breached it after bullying staff, prompting his independent advisor on ethics and ministerial standards to resign.
"The British people would rightly not expect a prime minister who has spent so much first-hand experience of dealing with matters relating to the Code to be so blatant in flouting it during a pre-election period."  
Rayner states that in the four years Sadiq Khan was mayor before Covid hit, he reduced the operating deficit of TfL, left by the previous mayor, by 71%. 
But Johnson said during the press briefing on Monday: "As for the finances of TfL I must respectfully remind you that I left them in robust, good order. It is not through any fault of my own the current Labour mayor decided to blow them all on an irresponsible fares policy. 
"We are doing our best to help them out and we will continue to do so. But I'm afraid you have to look at some of the decisions that were taken by the current Labour mayor as well.

"I hesitate to make a point like that but since you rightly draw attention to the fact I'm a proud former mayor of London I do think we could look at the way TfL is being run." 
HuffPost UK has contacted the Cabinet Office for comment on the letter.