Politics
Exclusive: Raab Says UK Wants Trade Deals With Nations That Violate Human Rights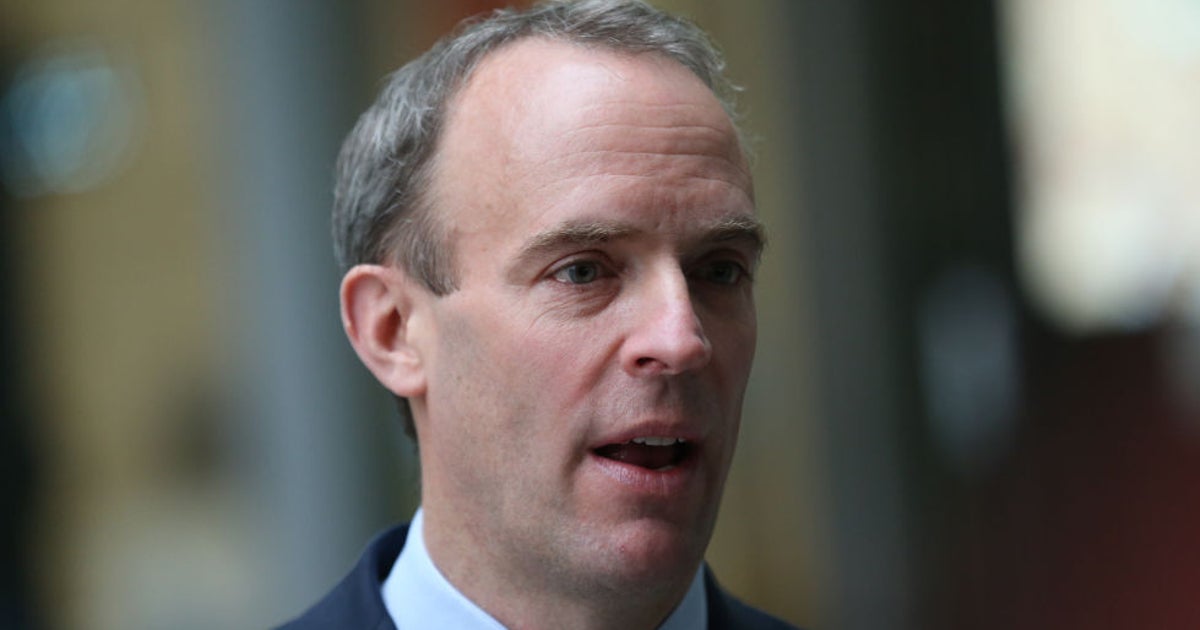 Dominic Raab has told officials in a leaked video call that Britain will seek trade deals with countries around the world that violate international standards on human rights.
The foreign secretary told staff in his department that only trading with countries that meet European Convention on Human Rights (ECHR) standards would mean the UK missing out on trade with future "growth markets".
In a question and answer session with Foreign, Commonwealth and Development Office (FCDO) staff, a recording of which has been heard by HuffPost UK, Raab said: "I squarely believe we ought to be trading liberally around the world.
"If we restrict it to countries with ECHR-level standards of human rights, we're not going to do many trade deals with the growth markets of the future."
Raab's astonishing words came after the government published a major review of foreign policy, which includes plans for post-Brexit Britain to tilt towards the Indo-Pacific region as the world's "geopolitical and economic centre of gravity" moves east.
The increased focus on the region is an acknowledgement of Chinese influence, as well as the importance of countries including India and Japan.
The shift will be underlined by the deployment of the HMS Queen Elizabeth carrier strike group to the region on its maiden operational mission later this year and a visit by Boris Johnson to India in April.
The prime minister said Brexit marked a "new chapter in our history" and the UK was now "open to the world, free to tread our own path" as the integrated review of security, defence, development and foreign policy was published.
In a Commons statement, Johnson insisted the UK has led international condemnation of China's alleged "mass detention" of Uighur people in Xinjiang and its actions in Hong Kong.
"China will pose a great challenge… but we will also work with China where that is consistent with our values and interests"

Setting out a foreign policy overhaul, Boris Johnson says UK can "thrive" and fulfill "historic mission as a force for good" https://t.co/s5NPOj67zQpic.twitter.com/jy4M2CTjUS

— BBC Politics (@BBCPolitics) March 16, 2021
"There is no question China will pose a great challenge for an open society such as ours," Johnson said.
"But we will also work with China where that is consistent with our values and interests, including building a stronger and positive economic relationship and in addressing climate change."
The plans for closer engagement with China were criticised by senior Tory MPs, who warned Johnson to avoid the "grasping naivety" of the David Cameron years.
Julian Lewis, chair of the intelligence and security committee of parliament, also suggested the impact of the economic closeness with China sought by Cameron and his chancellor George Osborne was still evident.
Lewis said: "It's suggested on pages 62-3 [of the review] that our adversary Communist China […] is an increasingly important partner in tackling global challenges like pandemic preparedness, if you please, and that we want deeper trade links and more Chinese investment in the UK.
"Doesn't that unfortunately demonstrate that the grasping naivety of the Cameron-Osborne years still lingers on in some departments of state?"
During the statement, Johnson also faced opposition MPs shouting "genocide" when he described China's treatment of the Uighur people in Xinjiang as "mass detention".
Responding to Lewis, the PM said: "Those who call for a new Cold War on China or for us to sequester our economy entirely from China, which seems to be the new policy of the opposition, weaving as they generally do from one position to the next, are, I think, mistaken.
"We have a balance to strike, we need to have a clear-eyed relationship with China. 
"Of course we're protecting our critical national infrastructure and we'll continue to do that. 
"We will take tough measures, as I have said, to call out China for what they're doing in Xinjiang."