Politics
Justify This Photo From Sarah Everard Vigil, Government Tells Police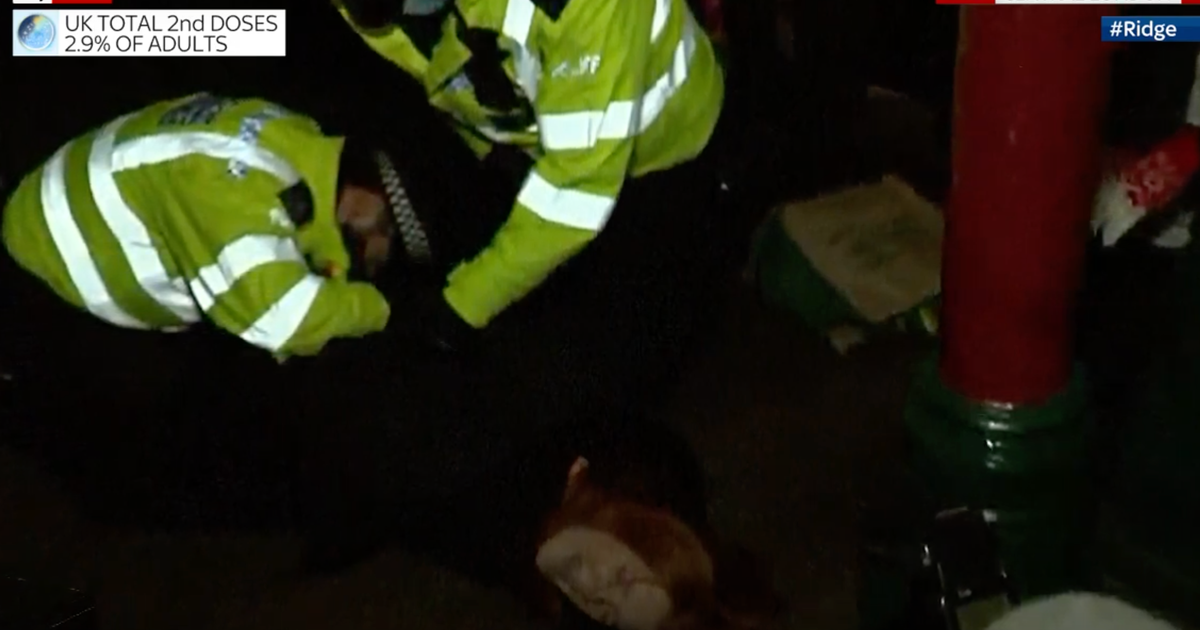 The police have been asked to explain to the government a photograph showing officers holding down a woman who attended a London vigil in memory of Sarah Everard.
A crowd gathered at Clapham Common to remember the 33-year-old marketing executive but scuffles broke out as police surrounded a bandstand covered in flowers left in tribute.
Officers from the Metropolitan Police were seen grabbing several women, leading them away in handcuffs and the force later said four people were arrested for public order and coronavirus regulation breaches.
Home Office minister Victoria Atkins said the force would have to justify the image in a report on the event demanded by home secretary Priti Patel.
Labour meanwhile said the police had "got it wrong at every turn" in the way they handled the vigil on Clapham Common on Saturday night.
Met Police commissioner Dame Cressida Dick is facing calls to resign over the policing of the event but Atkins said she should be given "a chance to explain what happened last night".
Referring to the photograph of a woman being held down by officers, she told Sophy Ridge on Sunday on Sky News: "That photograph is something the police will have to explain in their report to the home secretary.
"Any policing of large events is difficult at the best of times."
Atkins added: "Now the scenes that we have seen later on in the day and the evening are very upsetting. 
"I take it very seriously, the home secretary takes it very seriously, which is why she has asked the Metropolitan commissioner for a report on what has happened last night."
Shadow domestic violence minister Jess Phillips stopped short of backing calls for Dick to resign, including from the Liberal Democrats and Women's Equality Party. 
But she told BBC One's Andrew Marr Show: "The police have got it wrong at every single turn.
"Not just the final image that we see but all day yesterday and the day before the police did not try and find a way for…a vigil, a moment, they did not try and find a way to work with women who are sad and angry and upset to be able to, not even gather, but just go to Clapham Common.
"There are a million ways that could have been organised but the police put their foot down before they put their boot in, and at every stage they made the wrong call."
Victims Commissioner Dame Vera Baird QC said there was no real prospect of police successfully intervening in the crowd in Clapham, describing the circling of the bandstand as "quasi military".
She told the Ridge programme: "To push people away seems to me to be a dreadful piece of misjudgment.
"Are they really improving the chances of Covid not spreading by putting their knees in the middle of the back of young women, and putting their hands in handcuffs?
"It didn't seem to me to be the right thing to do."
Dame Vera added: "There needs to be some significant government leadership, and there needs to be a significant drive to change the culture, to acknowledge that we are in real danger of losing confidence in the criminal justice system from half of the population of this country."
Meanwhile, lockdown sceptic Tory Mark Harper said ministers and MPs who supported Covid regulations in the Commons bore some responsibility for the events in Clapham.
The Covid Recovery Group chair said "many are rightly horrified" by the scenes.
He went on: "There are serious questions for the Met Police commissioner to answer.
"But those who supported Covid regulations governing these scenes without asking questions should reflect on the responsibility they have too.
"A sad day."