Politics
Love Island's Faye Speaks Out About Infamous Outburst That Broke The Show's Ofcom Record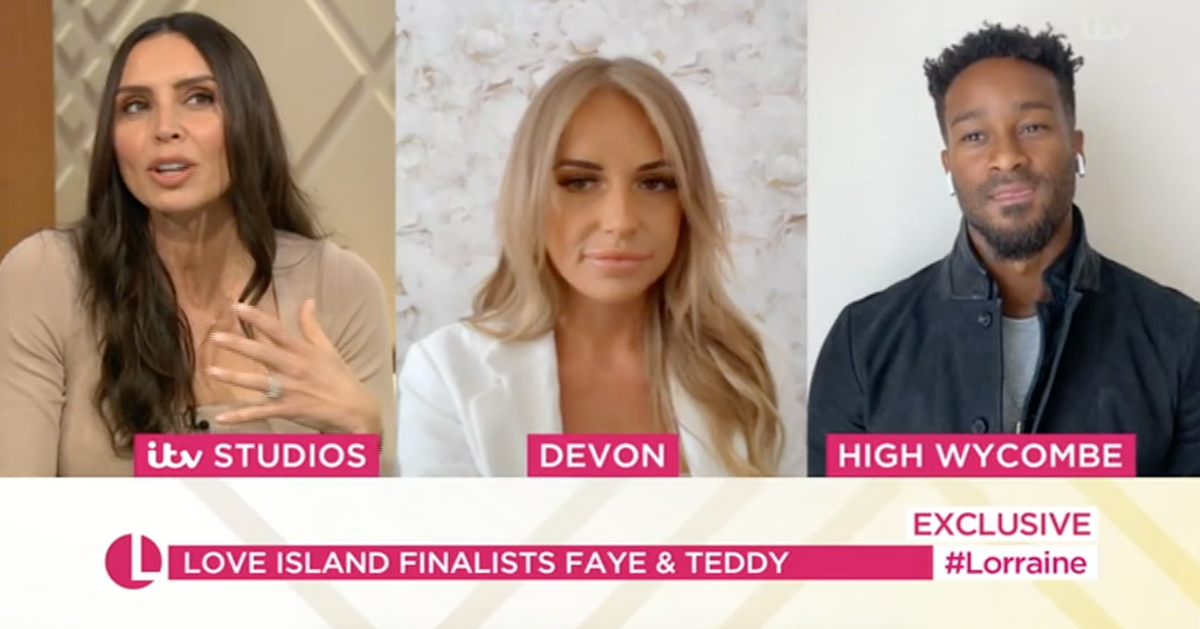 Love Island finalist Faye Winter has shared her thoughts on her infamous outburst towards boyfriend Teddy Soares during this year's series.
Faye shocked viewers earlier this month with her verbal tirade towards Teddy, which came after being shown a clip of him telling another Islander he found her attractive during the Casa Amor twist.
After the scene aired, it sparked more Ofcom complaints than any moment in Love Island history, with around 25,000 contacting the TV watchdog about the estate agent's behaviour.
Having now left the villa, Faye was asked about the incident while she and Teddy were interviewed on Friday's edition of Lorraine.
"It's what everyone was talking about," guest host Christine Lampard began. "This argument – let's call it a vocal outburst to be nice about it. How do you feel about that now that you've had a bit of time to reflect?"
Faye then explained: "I actually haven't watched it back. We were living it, we were in the moment, and we know exactly what happened. Obviously, it's not nice, it's not nice for anyone to see.
"I'm embarrassed, I've apologised, on more than one occasion, but you know, we're over it now as a couple, so it's made us stronger, and we're just looking forward to the future."
"But it's such a shame that it's been such a big part of the show," she added.
Asked for his thoughts, Teddy then said: "We understand each other quite well so I can definitely see why she would be annoyed receiving the postcard. And it's a surreal moment that would never happen in the real world. So I kind of… I was very understanding of the way that she was.
"And I was devastated obviously that I hurt her, I never like seeing her cry at all. It was painful to see."
The pair – who became an official couple on their last days in the villa – are currently self-isolating after returning from Mallorca, in Devon and High Wycombe.
However, Faye has insisted that when they get out of their isolation period the "future for us is really bright".
"We're looking forward to it," she said. "The first day we can, we'll be back together. And then we are going to be looking for a place.
"It's going to be that I will spend half my time there and half my time in Devon – we're still in the honeymoon period and we still want to be able to have a real relationship. But it will be our place."
Earlier this week, ITV boss Kevin Lygo brushed off the thousands of complaints made about this year's series of Love Island during an appearance at the Edinburgh Television Festival.
He also addressed calls for the show to be more inclusive of LGBTQ+ people.
Lorraine airs every weekday from 9am on ITV.