Politics
Nazanin Zaghari-Ratcliffe Has Been Released After Being Detained In Iran For 5 Years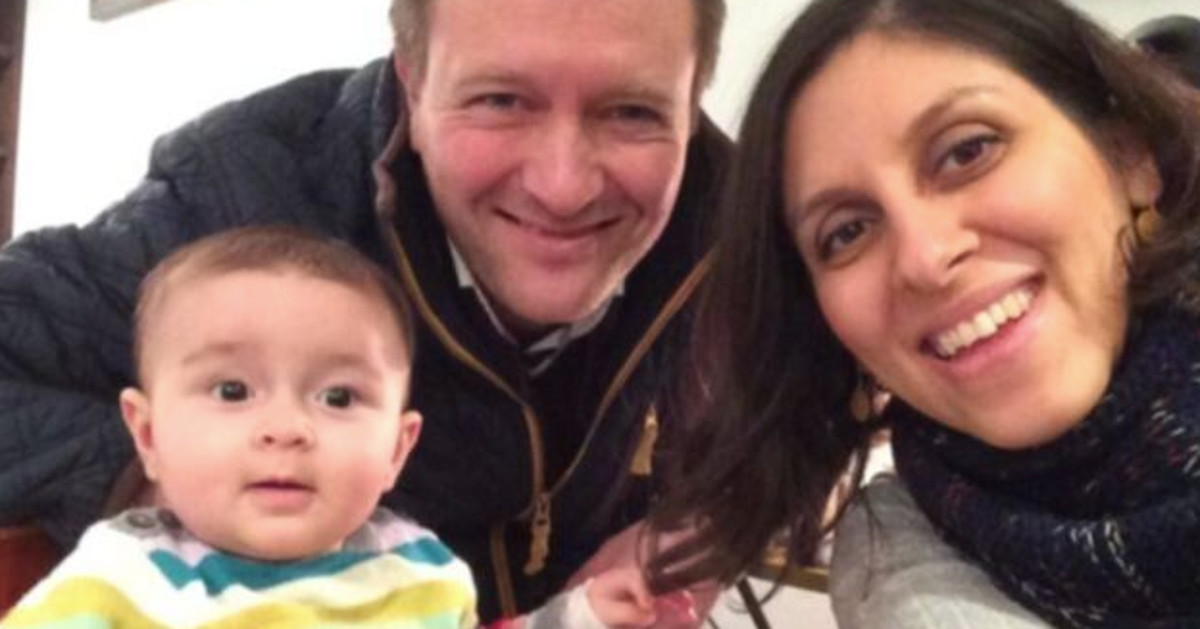 Change.org

Nazanin Zaghari-Ratcliffe with husband Richard and Gabriella as a baby
British-Iranian dual national Nazanin Zaghari-Ratcliffe has been released after serving a five-year sentence, her lawyer has said.
Speaking to Iranian website Emtedad on Sunday, Hojjat Kermani said: "She was pardoned by Iran's Supreme Leader last year, but spent the last year of her term under house arrest with electronic shackles tied to her feet. Now they're cast off.
"She has been freed."
But Labour MP Tulip Siddiq later said although she was no longer under house arrest, Nazanin "has been summoned once again to court next Sunday".
I have been in touch with Nazanin's family. Some news:

1) Thankfully her ankle tag has been removed. Her first trip will be to see her grandmother.

2) Less positive – she has been summoned once again to court next Sunday.#FreeNazanin

— Tulip Siddiq (@TulipSiddiq) March 7, 2021
It signifies the end of an ordeal for her husband Richard Ratcliffe and their daughter Gabriella, who is now six. Ratcliffe has campaigned passionately for his wife's release since she was jailed in Tehran in 2016.
Zaghari-Ratcliffe, a charity worker, was arrested at Tehran's Imam Khomeini airport while travelling to introduce her then baby daughter to her parents.
The 42-year-old has been detained in Tehran since 2016, when she was sentenced over allegations, which she has steadfastly denied, of plotting to overthrow the Iranian government.
Change.org

Nazanin Zaghari-Ratcliffe with husband Richard and Gabriella as a baby
She has been out of prison since last spring due to the coronavirus crisis, and has been under house arrest at her parents' home in Tehran.
While the mother-of-one's original sentence ended on Sunday, there had been fears her detention would continue after she appeared in court in November on charges of spreading propaganda against the regime. Her husband termed the charges "spurious", saying the case presented the same evidence used when she was convicted in 2016.
Speaking to HuffPost UK in the days ahead of her release, Ratcliffe said he had hardly dared believe she would be released after a number of "false dawns", including the invocation of rarely-used diplomatic protection for his wife in 2019 – to no avail.
He said: "Nazanin just wants to come home and have a cup of tea on the sofa. But I don't think I will feel safe to imagine a reunion at the airport or the beginning of a new life until she's out of Iranian airspace."
It has been claimed Zaghari-Ratcliffe was being held to force the UK into settling a multi-million-pound dispute with Iran. The debt dates back to the 1970s when the then-shah of Iran paid the UK £400m for 1,500 Chieftain tanks.
After he was toppled in 1979, Britain refused to deliver the tanks to the new Islamic Republic and kept the money, despite British courts accepting it should be repaid.