Politics
Outrage As Order To Concrete Over UK's Two Fracking Sites In Lancashire Is Pulled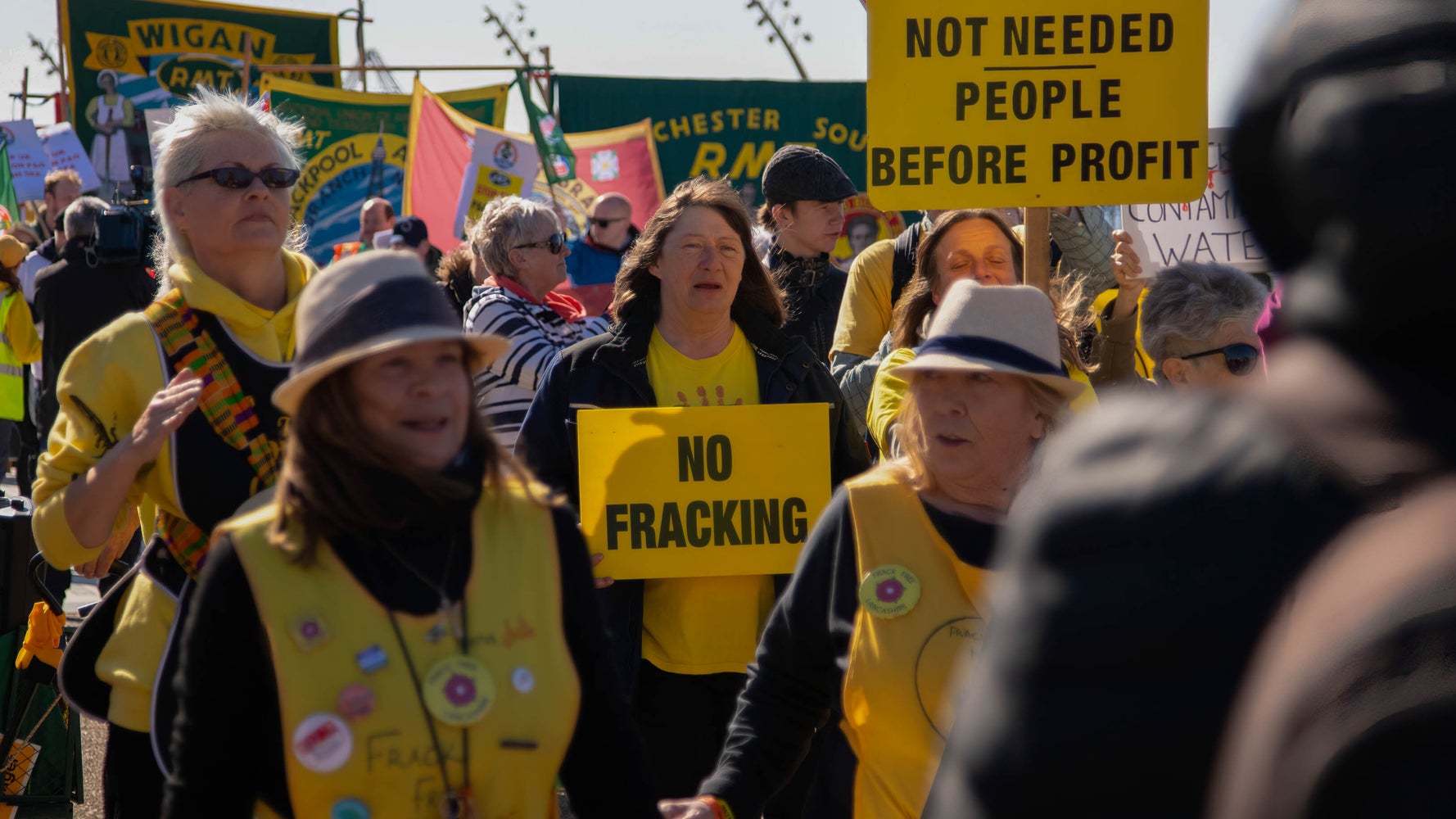 Campaigners have hit out at the government after fracking firm Cuadrilla was told it does not need to concrete over two two shale gas exploration sites in Lancashire this summer.
Oil and gas exploration firm Cuadrilla said it had been formally advised by the UK regulator, the North Sea Transition Authority (NSTA), that it was withdrawing its order for Cuadrilla to plug the country's only two shale gas exploration wells at Preston New Road and Elswick.

Cuadrilla had been given until June this year to close the two wells, but the NSTA said it would now have until the end of June next year to "evaluate options" for the two sites.
"If no credible re-use plans are in place by then, the North Sea Transition Authority expects to reimpose decommissioning requirements," the regulator said.
The news immediately sparked criticism from fracking opponents and Labour's shadow climate and net zero secretary Ed Miliband, who accused the government of bowing to its backbenchers who want to restart the practice.
"This is an appalling decision by the regulator, made after pressure from government," Miliband said.
"This has nothing to do with the energy needs of the country and everything to do with the government bowing to its backbenchers.
"These are the very wells that led the government to themselves conclude that fracking is unsafe, and will not help our energy security or cut bills.
"Nor does fracking have the consent of local communities. It is a sign that once again that this government cannot be decided to make decisions in our national interest."
A Greenpeace UK spokesperson said Cuadrilla had got "absolutely nowhere" despite being given a decade to get fracking started.
"Meanwhile, UK renewable energy has created thousands of jobs, powered thousands more homes and reduced our gas dependence," they continued.
"Trying to restart fracking now would only mean wasting more time when we have little. It will take many years to develop and if it ever gets produced, it will be sold to the highest bidder on the international market, with no impact on our energy bills.
"If the UK and Europe want to end their dependence on Russian gas, the quickest way to do that is by insulating homes, installing heat pumps and boosting renewables.
"These are tried and tested technologies, quick to deploy and getting cheaper all the time.
"The new energy strategy Boris Johnson is about to unveil must free our country from gas dependence as quickly as possible.
"This would protect households from soaring bills, tackle the climate crisis and weaken Putin's hand."
Hydraulic fracturing, known as fracking, is a process in which water and chemicals are injected into rocks at high pressure to extract gas and oil.
Cuadrilla believes vast quantities of shale gas may be hidden underneath shale rock surfaces across the UK, giving the country access to an untapped energy resource.
On top of this, campaigners argue that the drilling process could force carcinogenic chemicals into the atmosphere, potentially contaminating drinking water.
There is currently a ban on fracking, but Boris Johnson has been under pressure from some in his party to lift it in light of the soaring energy bills the UK is witnessing as a result of the increase in the price of wholesale gas and the war in Ukraine.
The regulator's decision to extend the June deadline comes as the energy price cap rises by
The energy price cap rises by £693 from Friday, prompting a rush of customers to submit meter readings before the higher rates come into force.
Francis Egan, CEO of Cuadrilla Resources, thanked Johnson and business secretary Kwasi Kwarteng for "seeing the light and realising – just in time – how absurd it would have been to force us to pour concrete down Britain's only two viable shale gas wells in the middle of an energy crisis".
He added: "But this suspension will have a cul-de-sac ending unless we now reverse the moratorium preventing us from using the wells and others like them to get shale gas out of the ground and flowing into British households.
"It is widely acknowledged — including by the Climate Change Committee — that natural gas will continue to play a key role in UK energy supply for many decades to come, even as the country transitions to a Net Zero CO2 economy.
"We remain convinced that the Bowland shale gas resource has the potential to be a very significant contributor to UK energy supply and in particular a source of cost-effective fuel for heating UK homes and businesses."