Politics
Owen Paterson Scandal: Telegraph Journalist Claims Boris Johnson Was Motivated By 'A Sense Of Decency'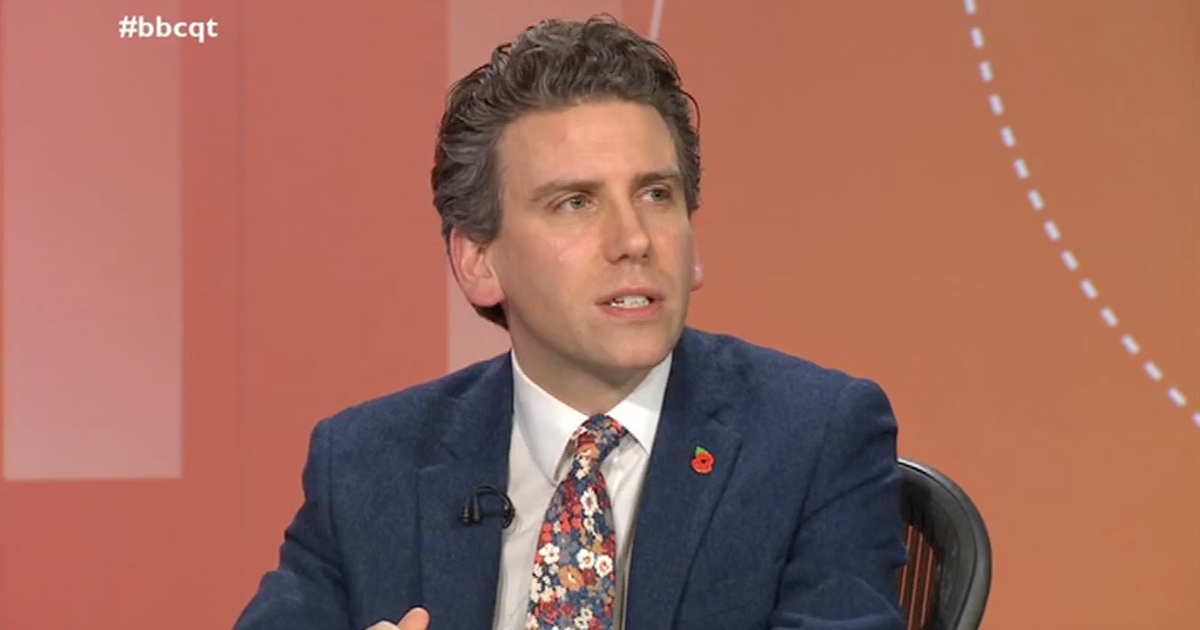 A Telegraph journalist has claimed Boris Johnson became embroiled in the Owen Paterson row because he was "motivated by a sense of decency".
Former cabinet minister Paterson quit as an MP rather than face the prospect of being suspended from parliament for 30 sitting days for an alleged breach of lobbying rules.
The MP announced his resignation on Thursday after the prime minister was forced to abandon a plan to prevent Paterson's immediate suspension by launching a review of the entire disciplinary system.
Appearing on BBC's Question Time, which was dominated by the controversy, Telegraph journalist Tim Stanley suggested Conservative MPs were ordered to vote in favour of a review because Paterson was being "unfairly hounded". 
Stanley said: "I think the prime minister was motivated by a sense of decency, which is that he thought that, in this instance, a man was being unfairly hounded."
He went on that the reason for this was not just "because the process was so long and opaque and somewhat contradictory, not just because the lobbying he is supposed to have done was raising genuine public health issues with ministers", but because of the suicide of Paterson's wife, Rose. This was why "many Tory MPs privately felt morally obliged and sympathetic to support this man in this particular instance", he added.
Stanley admitted by "screwing around in the last 48 hours" it "undermined any case for reform" and was a "PR disaster".
Haven't seen #bbcqt in ages but Tim Stanley just told the audience that "the PM was motivated by a sense of decency" over the Owen Paterson thing – so can only conclude that they've rebranded it as a comedy.

— Otto English (@Otto_English) November 4, 2021
What a surprise that the Daily Telegraph's Tim Stanley is defending Boris Johnson & Owen Paterson making light of the latter taking £500,000 from companies for paid advocacy & lobbying. #bbcqt

— Gerry Hassan (@GerryHassan) November 4, 2021
Tim Stanley painting this whole thing as just bad media presentation of honourable intentions is utterly laughable. A completely absurd reading of the last two days from the Telegraph "journalist" #bbcqt

— Ian Dudley (@morton_dill) November 4, 2021
Tim Stanley of the Telegraph on Question Time, "Boris Johnson took up Owen Paterson's case out of a sense of decency."

Where do I sign up for a Daily Telegraph subscription, just in case there is another toilet paper buying panic?

— steve toffee (@marrtoffee) November 4, 2021
Downing Street has said the intervention was always about ensuring the standards process was robust, but Johnson's former chief adviser Dominic Cummings has alleged the PM has it out for the Parliamentary Standards Commissioner due to his own record.
Johnson has been admonished four times by the commissioner – three of those during current standards commissioner Kathryn Stone's tenure – and a decision on whether she will launch an investigation into the initial financing of the redecoration of his Downing Street flat is due.
Many of the Tory MPs who signed the initial amendment that brought about the review, or who voted for it, had also fallen foul of the Commissioner.
Labour has meanwhile demanded an investigation into comments by the business secretary relating to the future of the commissioner.
Before the government's U-turn and Paterson's subsequent resignation, Kwasi Kwarteng suggested the result of the vote calling for reform of the Commons standards regime had put Stone's position in doubt.
"I think it's difficult to see what the future of the commissioner is, given the fact that we're reviewing the process, and we're overturning and trying to reform this whole process, but it's up to the commissioner to decide her position," he told Sky News.
Deputy Labour leader Angela Rayner has demanded an investigation into whether those comments breached the Ministerial Code which calls for "consideration and respect" and for "proper and appropriate" working relationships with parliamentary staff.