Politics
Plummeting Pound Becomes Fresh Fodder For Jokes At Tories' Expense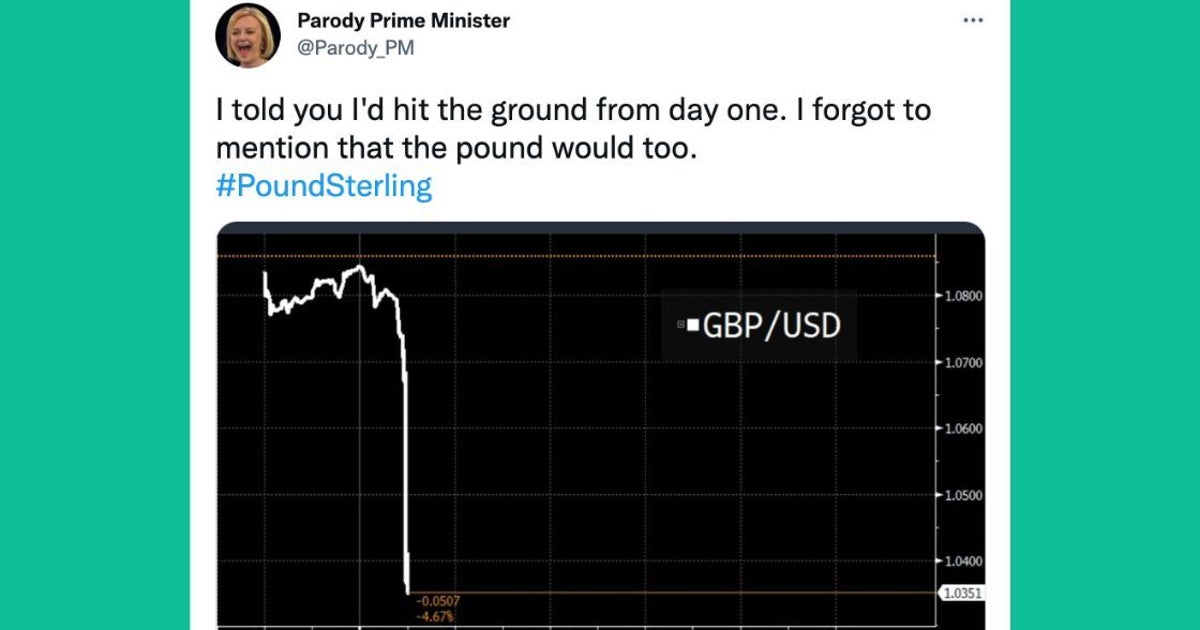 Downing Street revealed it had a new plan for economic growth last week, and started cutting more taxes than the UK has seen in 50 years.
The controversial new strategy has meant scrapping the cap on bankers' bonuses, axing the increases for national insurance and corporation tax, cutting income tax for people earning more than £150,000, cutting stamp duty and dropping the basic rate of income tax early.
Chancellor Kwasi Kwarteng is expected to announce more tax cuts on top of this £45 billion package soon.
But, it seems this mini-budget hasn't landed very well with international markets already.
On Monday morning, the value of the pound sterling fell to $1.03 as Asian markets responded to the new budget – a low not seen since decimalisation in 1971 – before bouncing back to $1.07 a few hours later.
Investors in Asia have been selling off their shares in the pounds and swapping in the US dollar and other currencies instead, as a sign they are losing faith in UK growth.
It's worth noting that the Bank of England had already warned of an upcoming recession stretching across five quarters weeks before this divisive new budget was announced by Kwarteng on Friday.
As much of the country is left wringing its hands over the grim stats, Twitter did what it does best and responded with even more cynicism than usual.
Others couldn't help express their frustration at the government's inability to predict this.
Then, there were accounts who mocked new prime minister Truss' previous promises to rejuvenate Britain…
Some joked about how the Conservatives – who have been in power since 2010 – might try to pin the blame for this on someone else.
Then, there were the practical (yet still angry) tweets.
And, of course, the tweets reminding everyone that this particular cabinet has only been in power since September 6.