Politics
Quarantine For UK Holidaymakers 'Should Carry On After Lockdown'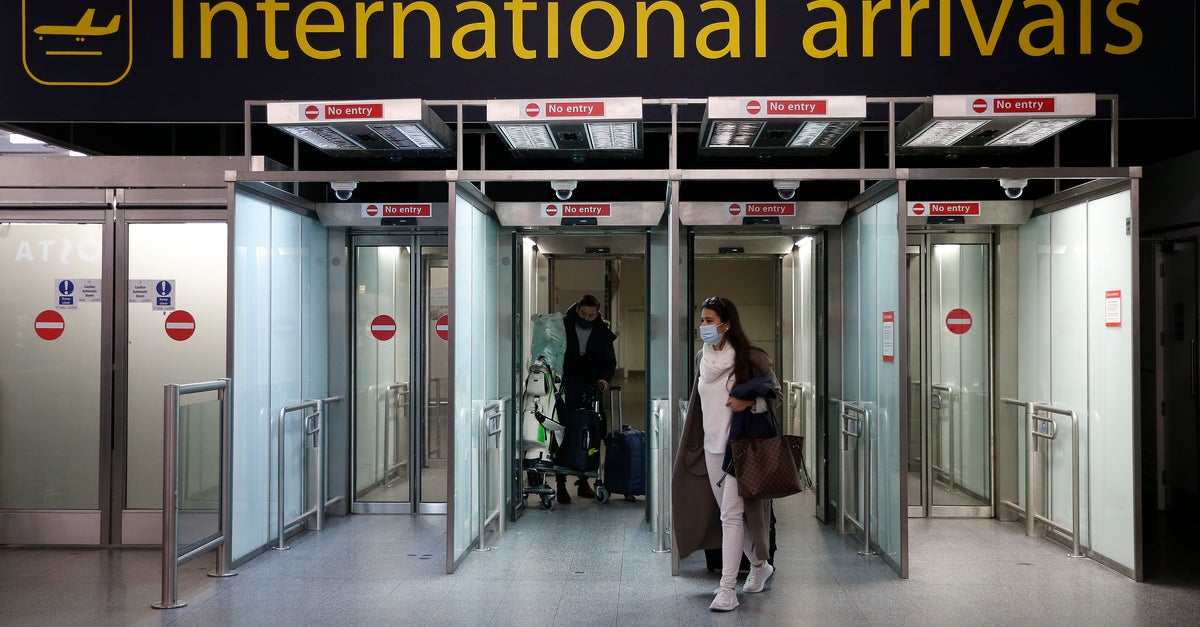 Hollie Adams via Getty Images

Travellers arrive at the North Terminal at Gatwick Airport.
Anyone arriving in the UK should be required to go into self-isolation or hotel quarantine even after lockdown restrictions are eased, scientists have warned.
Under England's current national lockdown, international travel is illegal apart from in some limited circumstances. The government's roadmap out of lockdown has targeted June 21 as the earliest date on which the vast majority of coronavirus restrictions can be lifted – including all legal limits on social contact.
But experts have told HuffPost UK restrictions on travel should continue well past this date, even if the government's four tests of the pandemic and vaccination programme are met.
Professor Gabriel Scally, president of epidemiology and public health at the Royal Society of Medicine and a member of the Independent Sage (scientific advisory group on emergencies), argues that border measures for arrivals into the UK should become even more stringent.
"I have no problem with people leaving the country – it's people coming back and what they're bringing with them that is the problem," he tells HuffPost UK.
His words echo those of Boris Johnson, who was asked at a coronavirus press conference on Tuesday: "How is the govt planning to stop the spread of the third wave from continental Europe into the UK? Are there plans for hotel quarantine for everyone […] coming to the UK from anywhere abroad?"
He replied: "As to your point about […] quarantine for absolutely everybody, I want to be clear with the public: we keep all these measures under review. Insofar as it's necessary to take extra measures to protect this country against new variants, variants of concern, of course we're going to do that."
Since the very start of the pandemic, Professor Scally has called for mandatory quarantine to be introduced for UK arrivals. "We know that the virus came to the UK through our ports and airports, so our original view was that quarantine was the right thing to do to stop cases from coming into and seeding around the country.
"Travel is the best way to spread the virus, so our best chance of keeping the virus and its variants out is to impose strict quarantine arrangements on our borders."
With more than 28m people in the UK having received at least one dose of a Covid-19 vaccine, the biggest and more concerning threat to the vaccination programme would be a new variant that may evade current jabs. This is why travel restrictions need to be in place regardless of the success of the UK rollout, scientists say.
"It's very tempting to focus on the fantastic achievements with the vaccinations, but we've got to remember that the UK is really quite exceptional," said Professor Scally. "There are lots of countries that haven't had any vaccines yet, so the UK has got a duty to act responsibly for the sake of the people in the UK, but also for the sake of the rest of the world. That means not encouraging unnecessary international travel."
ADRIAN DENNIS via AFP via Getty Images

A sign is put up at a window during mandatory hotel quarantine in a Radisson Blu hotel at Heathrow Airport.
As of February 15, passengers arriving from the so-called "red-list" countries including Brazil and South Africa are required to quarantine in government-approved hotels for 10 days. Arrivals who are not required to quarantine in hotels must self-isolate at home.
This policy is tantamount to "voluntary self-isolation", Professor Scally argues. "Self-isolation is flimsy both in terms of the rules and how it's enforced." In March, Test and Trace chief Dido Harding admitted about 20,000 people a day were failing to self-isolate when instructed to. 
According to the Border Force director, only 1% of the about 15,000 people arriving in the UK each day are required to quarantine in government-approved hotels. Professor Scally believes that number should be at 100%. 
"My personal view is that anyone coming to Britain and Ireland should go through managed isolation in a facility, where they can be apart from people and spend that period of time safely without the chance of infecting others. That is really what should happen until we're quite clear that international travel no longer poses a risk."
That could take up to years and certainly well past June 21. "It will be the rest of the year, I would think. As long as there are variants circulating in the world which can beat the vaccines, then quarantine or managed isolation is your only defence from importing variants. Especially when you've got such a lousy testing and tracing system as we do in the UK."
That is another reason why vaccinating other countries matters just as much vaccinating your own. "It's absolutely in the UK's interest to give its vaccines to developing countries – particularly in places where there is a lot of virus – to drive it down and dramatically decrease any opportunity for it to produce new mutations.
"We go to quite a lot of trouble to track [new variants] down and to suppress them when we find them here, but we don't seem to bother making the same efforts to try and keep them out," he continued.
Sage member and infectious disease modelling expert Professor Graham Medley agrees that strict border measures should continue regardless of the success of the UK's vaccination rollout.
"Quarantine does not prevent new variants from entering, but it does slow it down and reduce the risk – this is true regardless of the state of the epidemic and the measures in place," he tells HuffPost UK. "The date of June 21 has no bearing on this risk."
On Tuesday, Professor Neil Ferguson hinted that relaxing border measures too early would threaten the success of the vaccination programme and that people should plan to holiday in the UK this summer.
Speaking on BBC Radio 4's World at One programme, he said: "I certainly am in favour of relaxing border measures at a slower rate than we relax controls within the country and doing all we can to reduce the risk of importation of variants which might undermine our vaccination programme.
"Conservatively and being risk-averse at the moment, I think we should be planning on summer holidays in the UK, not overseas."
But even travelling within the UK nations may not be simple, Professor Scally points out. "As the four different parts of the UK pursue their own different approaches, there may well be issues about going on holidays to different parts of the country."