Politics
Refugees Face Ongoing Deportation Threat In Priti Patel's 'Unjust' Asylum Crackdown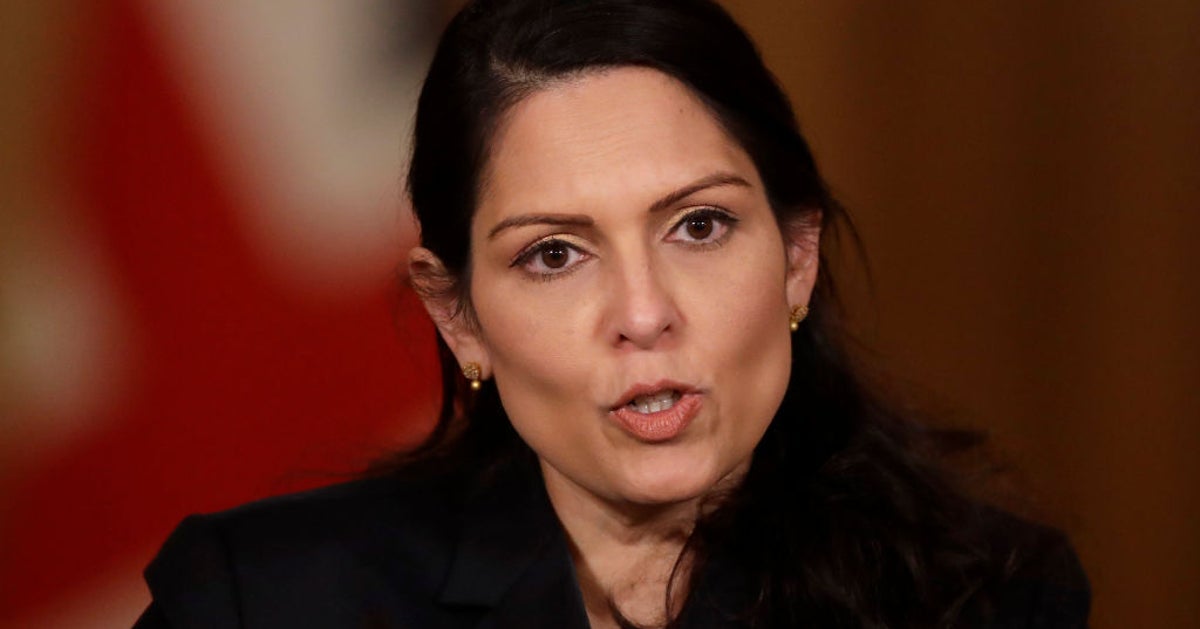 MATT DUNHAM via POOL/AFP via Getty Images
Genuine refugees will face the ongoing threat of deportation as part of a government crackdown on asylum seekers.
Priti Patel will on Wednesday announce that for the first time ever, asylum seekers who enter the UK through irregular means, such as crossing the Channel on a boat, will have fewer rights than those who arrive through safe and legal routes.
The home secretary's proposals to create a "two-tier" system were described by the Refugee Council as "wholly unjust" and "a stain on 'global Britain'" because ordinary people fleeing war or persecution "do not have a choice about how they seek safety".
But Patel said the crackdown would "save lives and target people smugglers" by discouraging illegal entry to the UK.
The proposals will mean that those who arrive in the UK illegally will first face deportation to any "safe country" they have travelled through, for example France.
If this is not possible, but their asylum claim is successful and they are recognised as refugees genuinely fleeing war or persecution by the UK authorities, they will have fewer rights than previously.
These refugees who have arrived through irregular routes will only be given "temporary protection status", with regular reassessment for removal from the UK, limited family reunion rights and limited access to benefits.
Those who have their asylum claims refused will face "rapid" deportation from the UK, with the appeals and judicial process reformed to speed up the removal process.
Patel is reportedly also considering shipping asylum seekers to offshore reception centres while their claim is heard.
She will announce a raft of other measures, which Home Office sources said were permissible within the 1951 Refugee Convention and European Convention on Human Rights, including: 
Redefining what qualifies as a "well-founded fear of persecution" to make it "much harder" for people to be "granted refugee status based on unsubstantiated claims"

"Rigorous" age assessment with a national age assessment board "to stop adult migrants pretending to be children"

Ensuring asylum, human rights and any other protection matters or claims are dealt with together ahead of any appeals process

Life sentences for people smugglers

Changing the law to make it easier to deport "dangerous criminals", even "when they improperly claim to be victims of modern slavery"

Allowing the winning party in asylum and immigration judicial reviews to claim costs from the losing side

Improved support for refugees to "help them build their life in the UK, integrate into our communities and become self-sufficient members of our society"
HuffPost UK understands that the government also plans to expand safe asylum routes to the UK, but will not announce how many extra refugee places will be made available.
According to the UNHCR, there were 31,752 asylum applications in the UK in the year ending September 2020.
By comparison, just 3,560 people were given refugee status in Britain through safe and legal resettlement routes set up by the government in the year ending June 2020
Last year, 8,500 people arrived into the UK by crossing the Channel in a small boat, and the majority of these claimed asylum, according to the Home Office.
Ahead of Wednesday's announcement, Patel said: "Under our new plan for immigration, if people arrive illegally, they will no longer have the same entitlements as those who arrive legally, and it will be harder for them to stay.
"If, like over 60% of illegal arrivals, they have travelled through a safe country like France to get here, they will not have immediate entry into the asylum system – which is what happens today.
"And we will stop the most unscrupulous abusing the system by posing as children, by introducing tougher, more accurate age assessments.
"Profiteering from illegal migration to Britain will no longer be worth the risk, with new maximum life sentences for people smugglers.
"I make no apology for these actions being firm, but as they will also save lives and target people smugglers, they are also undeniably fair."
Responding to the plan, Enver Solomon, CEO of the Refugee Council, said: "The government is seeking to unjustly differentiate between the deserving and undeserving refugee by choosing to provide protection for those fleeing war and terror based on how they travel to the UK. 
"The reality is that, when faced with upheaval, ordinary people are forced to take extraordinary measures and do not have a choice about how they seek safety.
"The government is effectively creating a two tier system where some refugees are unfairly punished for the way they are able to get to the UK. 
"This is wholly unjust and undermines the UK's long tradition of providing protection for people, regardless of how they have managed to find their way to our shores, who have gone on to become proud British citizens contributing as doctors, nurses and entrepreneurs to our communities. 
"All refugees deserve to be treated with compassion and dignity, and it's a stain on 'global Britain' to subject some refugees to differential treatment."
Nick Thomas-Symonds MP, Labour's shadow home secretary, meanwhile, said: "Measures are clearly needed to speed up processes and stop criminal gangs profiting from dangerous crossings. 
"However, we fear these plans will do next to nothing to stop people making dangerous crossings, and risk withdrawing support from desperate people, such as victims of human trafficking. Some of the ideas briefed from the Government have been downright ridiculous – like wave machines in the English Channel and processing people in the Ascension Islands, over 4000 miles away.
"These plans also have nothing to say about protecting our borders from dangerous Covid variants or ensuring our NHS has the staff it needs as it recovers."