Politics
Rwanda Plan Branded A 'Failure' As 13,000 Migrants Cross Channel Since Announcement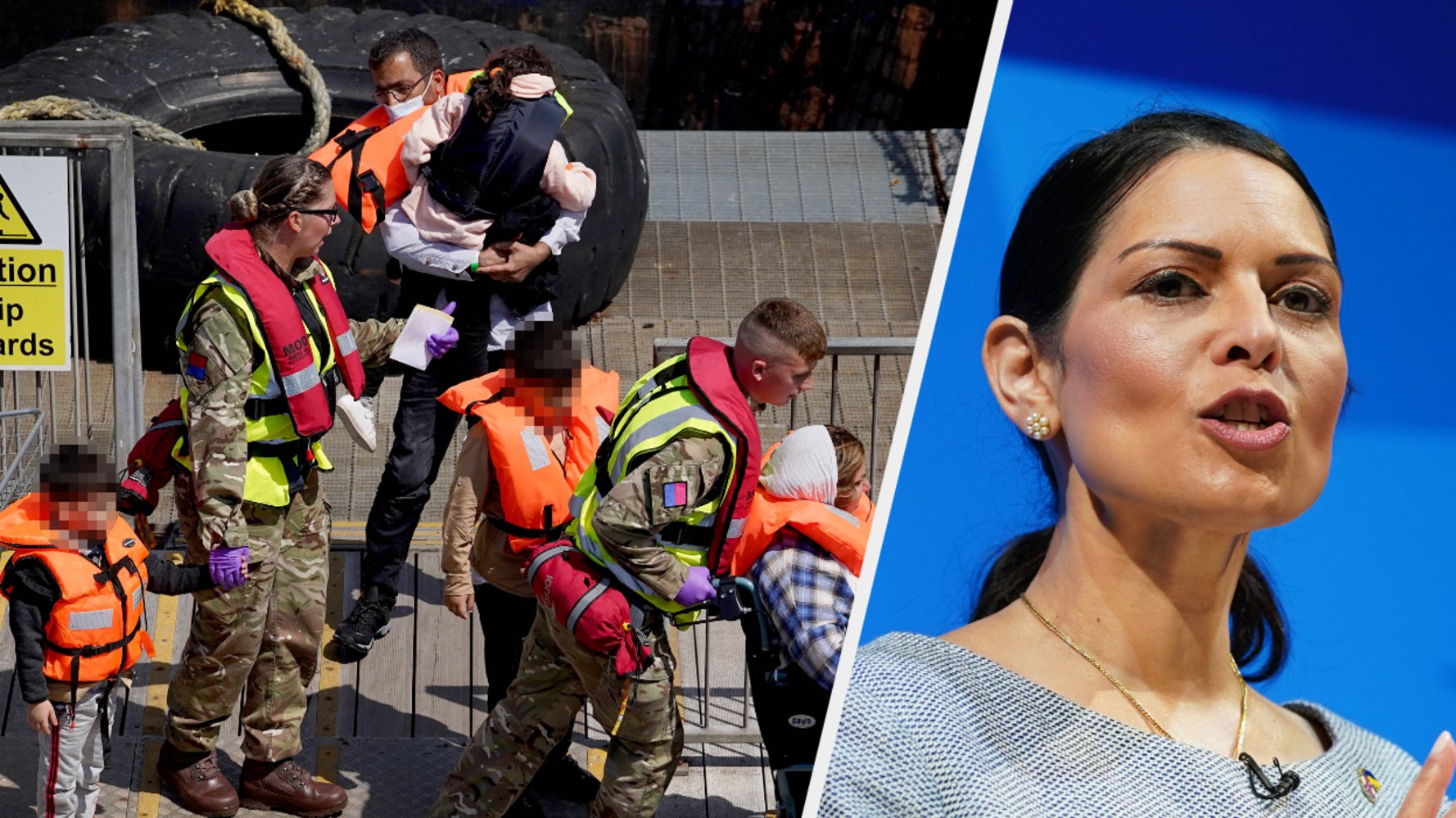 Priti Patel's Rwanda plan was branded a "failed scheme" today after it was revealed 13,000 people had crossed the Channel since it was announced.
According to the Ministry of Defence, 176 people made the crossing on five small boats on Sunday, bringing the total to 13,016 since April 14.
It brings the total number of people who have crossed the English Channel so far this year to 18,284.
Yvette Cooper, Labour's shadow home secretary, said: "Thousands of lives are still being put at risk in dangerous flimsy boats as the Conservative's policies on Channel crossings are failing.
"They are spending all their time as well as hundreds of millions of pounds on an unworkable, unethical and extortionately expensive Rwanda plan whilst failing to do the basic work of tackling the criminal gangs that are putting lives at risk."
Lib Dem MP Alistair Carmichael said the figures show the scheme was "unworkable" and "incredibly expensive" for taxpayers.
"The home secretary's failed scheme has done nothing to stop dangerous Channel crossings or combat smuggling and trafficking gangs.
"The current system is broken, and everything Priti Patel has done as home secretary has only made the problem worse."
An initial £120 million payment has already been made to Rwanda's government and the home office intends to spend around £100,000 on publicising the deal to migrants in the hope of deterring small boat crossings.
However, they have refused to disclose the full cost of the plan, saying they need a "safe space" to negotiate agreements.
Photographs taken on Monday morning showed a group of migrants, clad in life jackets and face masks, being brought into Dover by Border Force officials.
A number of children and babies wrapped in light blue blankets were among those being moved from the vessel to a waiting bus.
One young boy, wearing a rucksack and clutching his blanket, smiled before he boarded the transport.
Analysis by the PA news agency of the MoD's provisional figures shows 1,885 people have been brought to the UK so far in August. That is more than half of the 3,053 people rescued in August 2021.
In April, Priti Patel hailed the Rwanda deal as a "world class" plan that provided a "blueprint" for other countries to follow.
"The UK asylum system is collapsing under a combination of real humanitarian crises and evil people smugglers profiteering by exploiting the system for their own gains," she said.
The two candidates vying to be the next prime minister on September 5 have both vowed to continue with the policy.
Liz Truss said she would "support and extend" the deportation policy "to more countries".
Meanwhile, Rishi Sunak said he would do "whatever it takes" to get the plan "off the ground and operating at scale" and vowed to pursue more "migration partnerships" with other countries.
However, not a single flight has made it to Rwanda so far, with the first flopping after the European Court of Human Rights granted a last-minute appeal to all the asylum seekers on board.
Half an hour before the plane was due to take off, it was confirmed the seven remaining people on board had been granted injunctions blocking their removal from the UK. An out-of-hours judge examined the cases.
Current Cabinet ministers have insisted they are planning the next flight.
A government spokesperson said: "The rise in dangerous Channel crossings is unacceptable. People should always claim asylum in the first safe country they reach.
"The Nationality and Borders Act also makes it a criminal offence to knowingly arrive in the UK illegally and we have introduced life sentences for those who facilitate illegal entry into the country.
"We have always been clear we expected legal challenges to frustrate the policy with Rwanda and we will continue to robustly defend it.
"The Courts decided the hearing will now take place in September, meanwhile preparations continue at pace to relocate those who are making dangerous, unnecessary and illegal journeys to Rwanda and other countries such as Albania where returns agreements are in place."
A home office source stressed that Rwanda is a "fundamentally safe and secure country" with a track record of supporting asylum seekers.