Politics
Tiger Woods Taken To Hospital After Being Injured In Serious Car Crash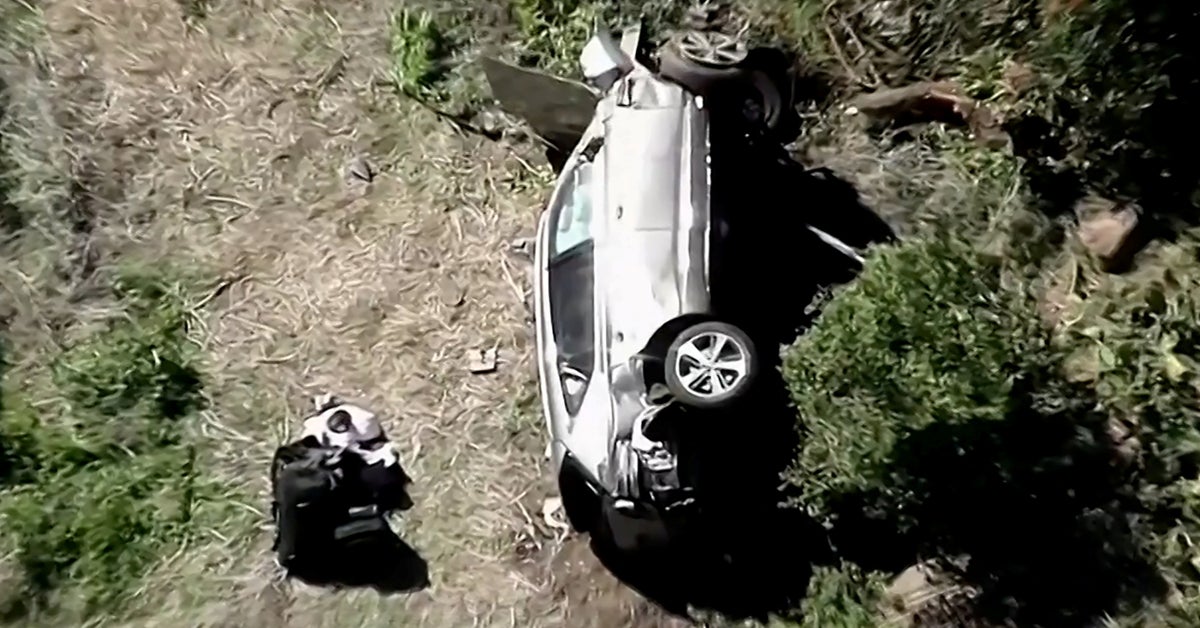 Tiger Woods is undergoing surgery on leg injuries after being pulled from his car following an accident in Los Angeles, officials have confirmed.
Fire crews had to pry Woods from the wreckage of the vehicle after it veered off a road and rolled down a steep hillside and suffered "major damage".
The 15-time major winner was taken to a local hospital by ambulance having suffered "multiple leg injuries", according to his manager Mark Steinberg.
The injuries were not believed to be life-threatening, police in Los Angeles said, adding that Woods was conscious and "able to communicate" when rescue personnel arrived.
The golfer survived "what would otherwise have been a fatal crash" because the interior of his vehicle remained intact.
The local sheriff said there was no evidence of impairment when Woods was assessed by emergency workers at the scene, and that no blood samples were drawn by investigators after he was rushed by ambulance to the Harbor-UCLA Medical Center.
Video footage from the crash scene showed Woods' dark gray Genesis sport utility vehicle badly crumpled and lying on its side near the bottom of the hillside, its windows smashed.
Reuters

The vehicle of golfer Tiger Woods, who was rushed to hospital after suffering multiple injuries, lies on its side after being involved in a single-vehicle accident in Los Angeles.
Woods, 45, was at Riviera Country Club at the weekend as host of the Genesis Invitational, but was not competing following recent back surgery.
In May 2018, with five prescription drugs in his system, Woods was arrested on suspicion of driving under the influence when he was found asleep at the wheel of his car and later pleaded guilty to reckless driving.
He spent 11 months on probation but completed a remarkable comeback with victory in the 2019 Masters, his 15th major title and first since 2008.
Woods, one of the world's most celebrated sports figures, was the sole occupant of the car when it crashed at about 7.12 am local time near the suburban communities of Rolling Hills Estates and Rancho Palos Verdes,
In a statement to Golf Digest, Woods' agent Steinberg said: "Tiger Woods was in a single-car accident this morning in California where he suffered multiple leg injuries.
"He is currently in surgery and we thank you for your privacy and support."
A statement from the Los Angeles County Sheriff's Department read: "On February 23, 2021, at approximately 7:12 AM, LASD responded to a single vehicle roll-over traffic collision on the border of Rolling Hills Estates and Rancho Palos Verdes.
"The vehicle was traveling northbound on Hawthorne Boulevard, at Blackhorse Road, when it crashed. The vehicle sustained major damage.
"The driver and sole occupant was identified as PGA golfer Eldrick 'Tiger' Woods. Mr Woods was extricated from the wreck with the 'jaws of life' by Los Angeles County firefighters and paramedics, then transported to a local hospital by ambulance for his injuries.
"The traffic investigation is being conducted by investigators from LASD Lomita Station."
The sheriff's department initially said a rescue tool known as "the jaws of life" was used to pry Woods from the wreckage. Fire department officials later said emergency personnel pulled Woods from the vehicle through the front windshield after the glass was removed.