Politics
Tory MPs Call For NHS Staff To Get More Than Proposed 1% Pay Rise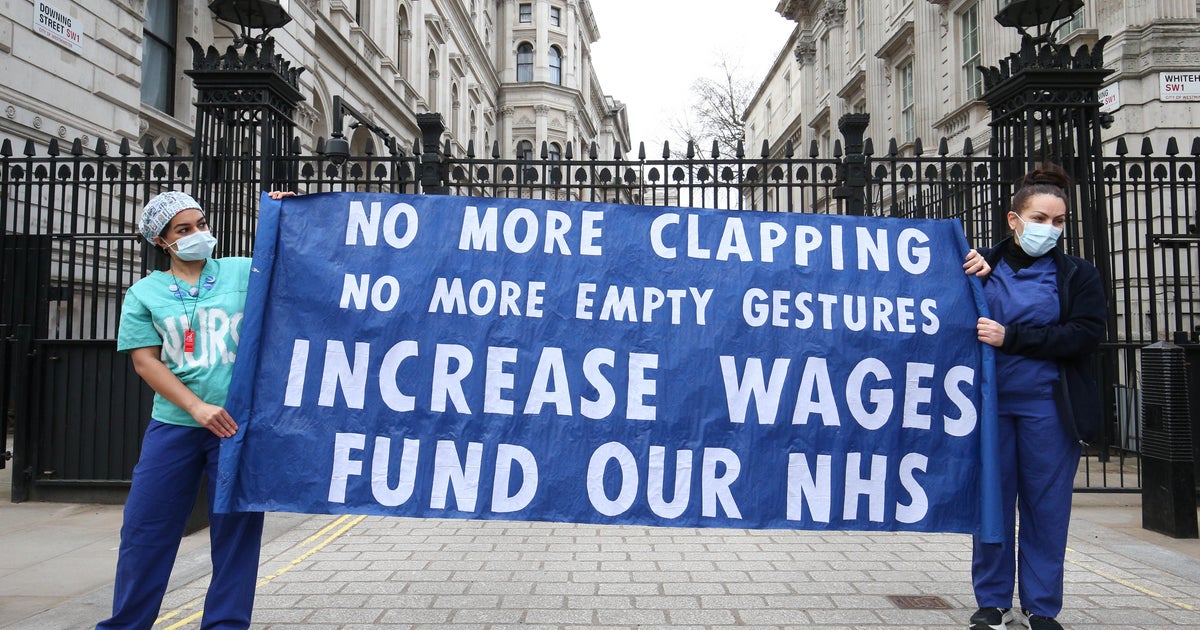 Tory MPs have urged ministers to think again and pay NHS staff more than the controversial proposed 1% pay rise.
More backbenchers broke cover on Monday to demand a rethink amid a backlash that has seen anger from unions and warnings of strikes by health workers in England.
It came as Downing Street refused to rule out giving NHS staff a one-off Covid bonus for their work battling the pandemic, which has stretched the health service to its limit.
Senior Tory MP Rob Halfon called for lower-paid health workers to get more than the 1% the government proposed to the NHS pay review body, while party colleague Andrew Percy suggested either a one-off payment or more recuperation time away from work.
HuffPost UK understands that several more Tories are urging ministers behind the scenes to consider other options, including giving frontline staff who worked directly with Covid patients a bigger increase.
7 Things The Government Spent Money On Instead Of A Pay Rise For NHS Staff
Some Tory MPs are seeing their post bags fill up with constituents' concerns about the proposed increase, which could end up being a real terms pay cut as the Office for Budget Responsibility predicts inflation to rise to 1.5% this year.
Other backbenchers said they had not heard many concerns from voters.
But amid mounting pressure on ministers, one Tory MP told HuffPost UK: "Like you – we are just waiting for the U-turn."
Jonathan Brady/PA Images

Nurses and NHS workers from the campaign group NHS Workers Say No, and Unite's Guys and St Thomas Hospital Union branch, hold a socially distanced protest outside Downing Street in London over the proposed 1% pay rise
Boris Johnson's official spokesperson refused to rule out a Covid bonus for NHS workers, which could potentially be modelled on Scotland's £500 one-off payment to health and care staff.
Asked twice on Monday to rule out a similar approach in England, they said:  "I'm not going to comment on speculation.
"We've set out what we think is affordable. It's now for the pay review body to look at that and look at the other evidence and come forward with their recommendation."
Labour criticised health secretary Matt Hancock for sending junior minister Helen Whately to answer an urgent question on the issue which was directed at him.
During the debate Halfon asked: "Whilst absolutely recognising the economic constraints and the £2tn debt that our country owes, will she reconsider and at least propose a larger increase for lower-paid NHS workers?"
"Whilst absolutely recognising the economic constraints… will she reconsider and at least propose a larger increase for lower-paid NHS workers?" asks Tory MP Robert Halfon

Helen Whately says goverment will look at recommendations from pay review bodyhttps://t.co/wnoITFQKSbpic.twitter.com/XVQismiZDH

— BBC Politics (@BBCPolitics) March 8, 2021
Percy, the Tory MP for Brigg and Goole, added to calls for a rethink.
He said: "I'm proud to play a small role on the NHS frontline and this last most recent wave has been particularly brutal on nurses, healthcare assistants and, especially this time round, ambulance crews.
"So can I urge [Whately] to, during this period of the review body considering it, open up discussions with the Treasury to look at what more we can do for our NHS staff, be that a one-off additional payment, be that other support, just giving people more rest and recuperation time?
"We should do everything we can and make every effort to go further than what has so far been recommended."
Asking his urgent question, Labour's shadow health secretary Jon Ashworth said: "I am grateful for the minister [Whately], but where is the secretary of state [Hancock]?
"Why isn't the secretary of state here to defend a budget that puts up tax for hard-working families and cuts pay for hard-working nurses?
"The secretary of state has stood at that despatch box repeatedly waxing lyrical, describing NHS staff as heroes, saying they are the very best of us, and now he is cutting nurses' pay.
"Last summer, when asked by Andrew Marr if nurses deserved a real-terms pay rise, he replied: 'Well, of course, I want to see people properly rewarded, absolutely' – and yet now he is cutting nurses' pay."
At a Downing Street coronavirus briefing, Johnson pointed towards the extra cash the NHS had received during the pandemic as he was asked about the 1% pay rise proposal.
"I understand, of course that the whole sector has been under massive pressure and that's why we are investing colossally on top of the £140bn annually that we give to the NHS, an extra £62bn to support the NHS," he said.
"I think is really crucial for the wellbeing of nurses across the country, in addition of course to the 12.8% pay increase that they got [in] the most recent round."