Politics
Trump Mocked For Ranting About Censorship…In A National Newspaper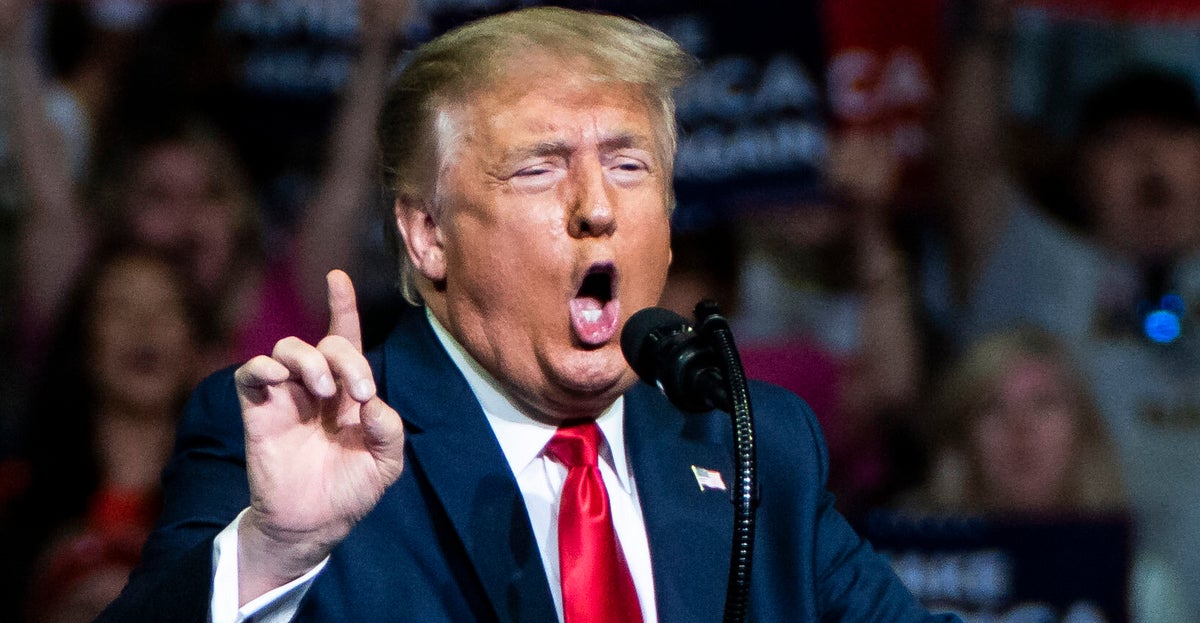 Twitter users spotted a big contradiction with an opinion piece purportedly penned by ex-President Donald Trump that was published on the Wall Street Journal's website on Thursday.
In the essay, Trump ranted about being censored by social media companies such as Twitter and Facebook, who booted him from their platforms following his incitement of the US Capitol riot.
Trump is now seeking lawsuits against them, alleging an infringement of his First Amendment rights.
If Facebook, Twitter and YouTube can censor me, they can censor you—and believe me, they are, writes Donald J. Trump https://t.co/bMFTFypGwm

— WSJ Editorial Page (@WSJopinion) July 8, 2021
Critics mocked the former president for complaining about not having a platform, in one of America's most-read newspapers.
They also criticised the conservative newspaper for publishing the piece in the first place, given Trump's attempts to subvert democracy by overturning the 2020 election result:
Donald Trump is complaining about censorship by *checks notes* writing an op-ed in the Wall Street Journal.

Why won't the WSJ host my op-eds? I AM BEING CENSORED!!!!

— Brandon Hieb (@AlmostFurious) July 8, 2021
"I've been silenced!" he wrote in the Wall Street Journal.

— Thor Benson (@thor_benson) July 8, 2021
I wanted to write an editorial for the Wall Street Journal. They didn't let me. If they can censor me, they can censor you.

— Stressfully Numb (@Tecaterob) July 8, 2021
the first WSJ opinion written in crayon.

— ElJefe45 (@JeffM50196181) July 8, 2021
It's not the biggest takeaway from Trump's op-ed (the biggest has to do with what WSJ opinion has become) but it was still perplexing to me that Trump's use of "illegal alien" wasn't changed by an editor. AP stopped using the term in 2013, and many pubs have since followed suit.

— Brandon Ambrosino (@BrandonAmbro) July 8, 2021
tremendous article, the greatest article ever, so many words, only the best words …

— Tobias Burri (@tobias_burri) July 8, 2021
Should the WSJ editorial page be hosting someone they condemned for attempting to subvert democracy? Donald J. Trump: If Facebook, Twitter and YouTube can censor me, they can censor you—and believe me, they are. https://t.co/mwrLrSUTYm via @WSJOpinion

— Mona Charen (@monacharen) July 8, 2021
Donald J. Trump did not write a single word of this column.

WSJ really thinks we're idiots. How about you stop platforming insurrectionists who'd rather destroy American democracy than share it with Black people?? Just a thought. https://t.co/1MdoLPaRQk

— DEMS in Disarray? 🤣 😎 🏳️‍🌈 (@DemsMoreUnited) July 8, 2021
"I'm being censored," cries the former president in the 2nd widest circulated newspaper in America. Yup, that's totally how censorship works. https://t.co/trZhkbBxhT

— Jon Robert Rathburne Eugene Harold 🏴🖤 (@boatloadsbaley) July 8, 2021
"I'm being censored" writes man in a guest column reprinted in one of the world's largest newspapers. "My viewpoints aren't being heard" he complains after coming from a weekly in-person political rally. pic.twitter.com/eNApN7VY7X

— mausmalone (@mausmalone) July 8, 2021
Hey WSJ, if he can "write" for a national newspaper, how is he "censored"?

— Ἑαυτὸντιμωρούμενος, Federico Chiesa stan account (@LeeSpring_) July 8, 2021