Politics
UK Brands EU 'Offensive' After Emmanuel Macron Sausage Gaffe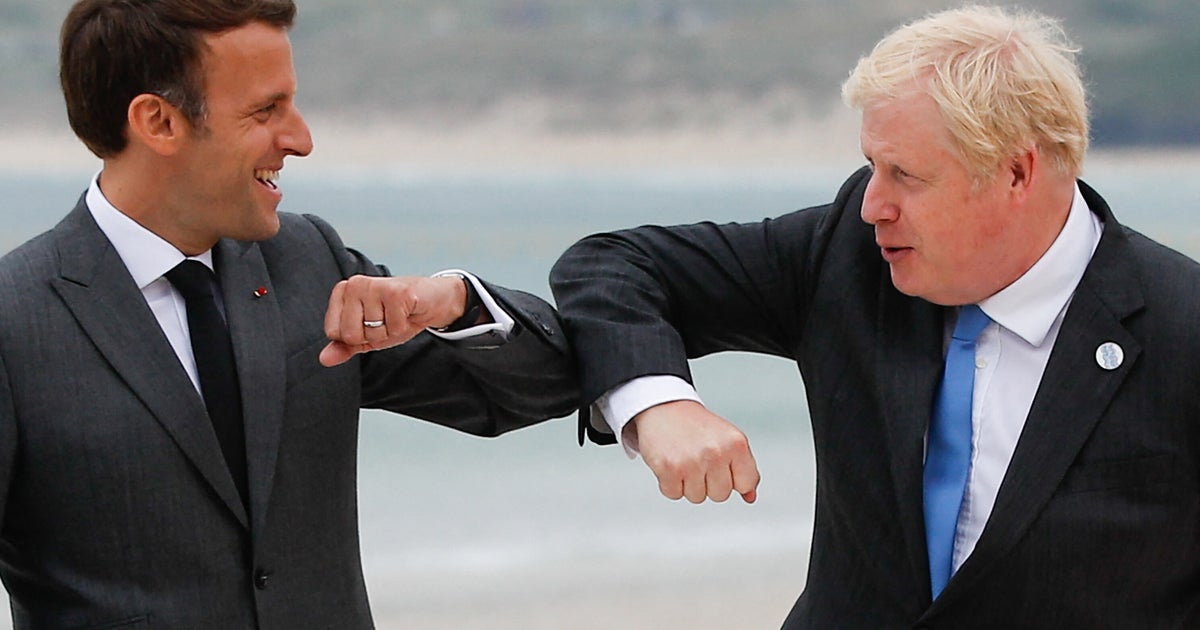 The foreign secretary has branded the EU "offensive" for treating Northern Ireland as a "different country" to the rest of the UK.
In a further intensification of the so-called Brexit "sausage war" which is overshadowing the G7 summit in Cornwall, Dominic Raab hit out after Emmanuel Macron angered Boris Johnson on the issue during their bilateral talks on Saturday.
The Sunday Telegraph said the prime minister attempted to explain his frustration with post-Brexit trade arrangements for Northern Ireland by asking Macron what he would do if sausages from Toulouse would not be moved to Paris.
The French president reportedly claimed the comparison did not work because Paris and Toulouse were both part of the same country, wrongly suggesting Northern Ireland is not within the UK.
EXPLAINED Why A Brexit Sausage War Risks Overshadowing The Entire G7 Summit
Johnson wants to strike a deal with the EU to reduce the impact of checks on trade into Northern Ireland from the rest of the UK, which Brussels insists are a requirement of the withdrawal agreement negotiated by the PM.
But the UK believes the EU is being too "purist" in its application of the Northern Ireland protocol, and has not ruled out taking unilateral action to suspend restrictions on trade, including a ban on chilled meats from Great Britain.
PHIL NOBLE via Getty Images

Boris Johnson greets French president Emmanuel Macron at the G7 summit on Friday
Raab told Sky News: "What we cannot have is the continuing disruption of trade and effectively try to change the status of Northern Ireland, contrary to the consent and wishes of the people, which is not just contrary to the Northern Ireland protocol but also to the Belfast [peace] Agreement.
"We have serially seen senior EU figures talk about Northern Ireland as if it was some kind of different country to the UK. It is not only offensive, it has real world effects on the communities in Northern Ireland, creates great concern, great consternation.
"Could you imagine if we talked about Catalonia, the Flemish part of Belgium, one of the lander in Germany, northern Italy, Corsica in France as different countries? We need a bit of respect here."
Johnson cut a frustrated figure on Saturday after Macron, German chancellor Angela Merkel, European Commission president Ursula von der Leyen and European Council president Charles Michel lined up to urge him to "implement what we agreed on" in meetings on the margins of the G7.
The PM hit back by branding the EU's stance on checks as "theologically draconian" and promising to do "whatever it takes" to get better arrangements for Northern Ireland.
He also threatened to unilaterally suspend the protocol under Article 16, which allows either side to take unilateral action to suspend the deal if its implementation were to lead to "serious economic, societal or environmental difficulties".
Appearing to express frustration with Macron, the PM said: "I've talked to some of our friends here today, who do seem to misunderstand that the UK is a single country, a single territory. I just need to get that into their heads."