Politics
Why Is Priti Patel Going Head To Head With France?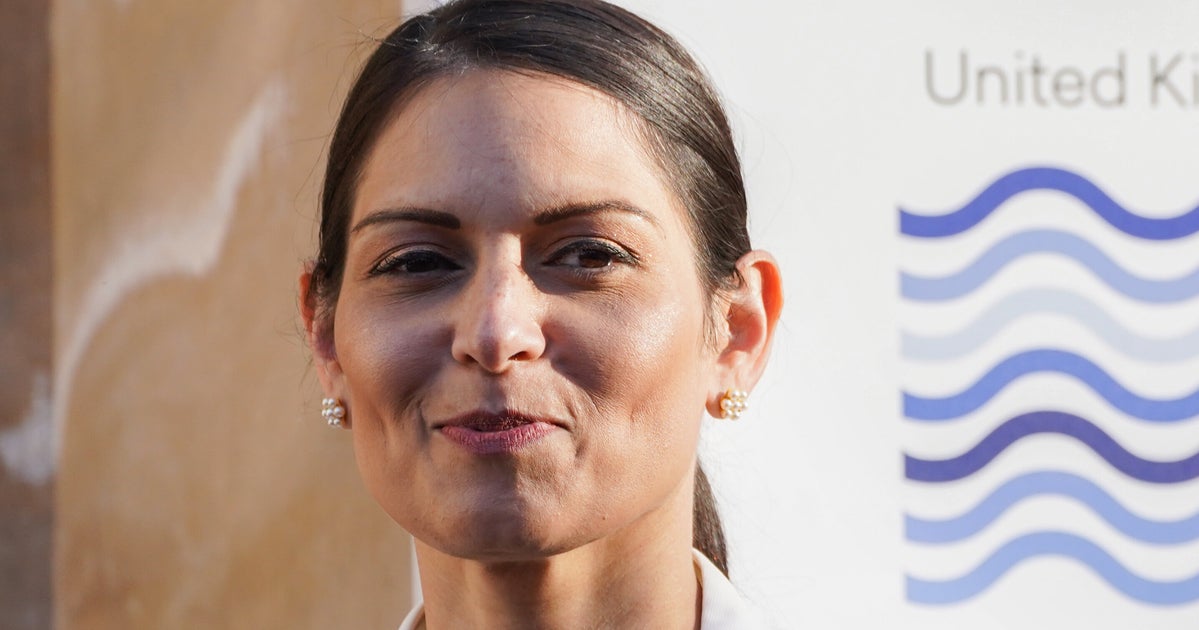 Priti Patel is expected to hold talks with her French counterpart at a meeting of G7 ministers on Wednesday, as tensions rise over the migrant crisis.
The home secretary has already issued a stern warning to France about withdrawing the £54.2 million the UK offered to its neighbour in July.
This money was supposed to help prevent migrants from travelling across the English Channel to the UK – but there's been a significant influx in recent weeks, despite the Home Office's financial aid, meaning Patel's meeting with French minister Gerald Darmanin could be a little uncomfortable.
Migrant numbers are rising
Patel has repeatedly pledged to crack down on the number of asylum seekers reaching the UK, particularly those coming through the English Channel, but a record number tried to cross on Monday.
At least 1,000 people were seen travelling from France to the UK according to witnesses, although the Home Office maintains that the actual number is much lower at 785.
Numbers last reached an all-time high on August 21, when 828 migrants travelled to the UK.
Migrant numbers are thought to be up due to the ideal weather conditions after a particularly wet and cold August.
Even without counting Monday's figures, it's believed more than 12,500 people have travelled across the Channel seeking asylum, according to PA news agency – a far greater number than the 8,417 who arrived in the UK via the same method in 2020.
Patel is furious at recent events
The home secretary has threatened not to cover the bill for border patrols in France unless her targets are met.
She claims France should stop close to three quarters of those attempting to make the crossing – but her counterpart says the country stops more than half as it is.
Patel previously claimed she wanted the Channel crossing to become "unviable" for those entering the UK illegally.
She has also proposed an increase to prison sentences for illegal migrants and wants a life sentence for those who "facilitate" crossings.
But, as the French reportedly stopped only 200 migrants on Monday, Patel is said to be "furious", according to The Times.
She told Tory MPs she is "prepared to pull the funding promised less than two months ago if they failed to stop three in four crossings by the end of this month".
She also said this week: "It's payment by results and we've not yet seen those results. The money is conditional."
France are fighting back
France said if Patel were to withdraw funding, her policy would be "a break in the spirit of mutual trust".
Calais MP Pierre-Henri Dumont told BBC Radio 4′s Today programme that "nothing" can stop the migrants and that it is "impossible" for the French police to patrol an entire shoreline.
He said: "We have more and more patrols.
"The money that was promised to be given by the UK government to France is set to maintain this number of patrols that we already doubled a few weeks ago." 
The French interior ministry also responded to Patel's threat, and said: "The funding granted by the British government within the framework of this co-operation (£54 million) is a fair contribution to this effort, which relies mainly on French forces.
"The terms of this funding were negotiated in detail with the British side and there was never any question of making payment conditional on quantified targets.
"Such an approach would reflect a serious loss of confidence in our co-operation."
The ministry asked for the government to be "cautious about the announced use of procedures to fight against attempted sea crossings" which could be dangerous and contrary to international law.
It added: "It would also introduce a break in the spirit of mutual trust that has so far underpinned our common action."
Could this be make-or-break for Patel?
There have been claims Patel, along with foreign secretary Dominic Raab and education secretary Gavin Williamson, might all face demotion in a speculative cabinet reshuffle later this week.
An ally of the prime minister's told The Times: "It's very well for her to complain about not having the levers to fix it but she's been in the job for two years now."
Notably, a committee called the Small Ministerial Group: Afghan Resettlement is chaired by the chancellor of the Duchy of Lancaster, Michael Gove, rather than Patel.
Prime minister Boris Johnson has publicly defended Patel so far, and said on Wednesday in the House of Commons that the number of crossings depended "to a large extent" on the French authorities.
He added that Patel was "dealing with it in the best possible way, which is to make sure that they don't leave those French shores".
However, he concluded: "Clearly as time goes on and this problem continues, we are going to have to make sure that we use every possible tactic at our disposal to stop what I think is a vile trade and a manipulation of people's hopes."
Tory MPs are also demanding Patel take more decisive action. Conservative MP for Dover, Natalie Elphicke, called for new emergency laws to turn back boats.
She said: "If the French won't stop the small boats then we need to by turning them back, making returns and taking firm control of our borders."