Tech
Bullitt intros rugged satellite messaging phone ahead of MWC
MWC Ruggedized handset maker Bullitt Group has lifted the lid on its first smartphone with satellite messaging ahead of MWC next week, as well as a Bluetooth dongle from Motorola that provides the same capability for any iOS or Android phone.
The Cat S75 is an addition to the company's ruggedized range and is an Android smartphone with a 6.6in display. But as well as support for 5G mobile networks, the MediaTek chipset the device is based on provides support for non-terrestrial networks (NTNs). Specifically, that's the Bullitt Satellite Connect service the company launched at CES in January, which enables two-way messaging, location sharing and SOS assistance in areas where there is no mobile signal.
The ruggedized nature of the device and the ability to send and receive messages in remote locations indicate that Bullitt sees workers in rural areas and people who pursue leisure pursuits such as rambling or rock climbing as its target market.
In addition to the Cat S75, which is aimed at the European market, Bullitt is offering the Motorola defy 2 handset with the same capability for buyers in the US, Canada, and Latin America, plus the Motorola defy satellite link, a Bluetooth device that enables other iOS or Android smartphones to use satellite messaging.
The Bullitt Satellite Connect service is delivered in conjunction with Skylo, a service provider that manages connections via existing licensed satellite constellations, such as those operated by Inmarsat. Users access the service via a Bullitt Satellite Messenger app on their phone, which switches to the satellite link only when no cellular or Wi-Fi connection is available, Bullitt told us at the launch of the service last month.
Messages sent by the Bullitt Satellite Connect service can be received by anyone with a standard handset as a normal SMS – at no cost to the recipient, according to Bullitt – but they may have to download and install a free-to-use version of the Bullitt Satellite Messenger app in order to send back a reply.
Samsung said it plans to integrate non-terrestrial network (NTN) modem technology into its Exynos cellular modem chipsets, enabling satellite capability in future devices. The company said it has developed and simulated 5G NTN satellite technology using its Exynos Modem 5300 reference platform, and future Exynos modems will support two-way text messaging as well as high-definition image and video sharing.text
Users with a Bullitt handset also require a subscription to use the service, with plans starting from €4.99 per month (or $4.99 per month in the US, it seems) with "flexible and heavier usage plans" also available.
Subscribers can get a 12-month free trial of the SOS Assist service, which provides 24/7 access to emergency response centres provided by FocusPoint International, a US-based international assistance company.
As well as its ability to get you emergency help where there is no phone signal, Bullitt claims the Cat S75 as its toughest handset yet. The company said it is waterproof to a depth of 5 meters and resistant to high pressure water jets, with IP68 and IP69K ratings, and has undergone Mil-Spec 810H testing to ensure it can survive extremes of temperature, humidity, vibration and tumble tests.
In other specs, the Cat S75 is based on MediaTek's 2.2GHz Dimensity 930 8-core processor, with 6GB RAM and 128GB of storage, plus MicroSD slot for expansion. The display is FHD+ resolution, and the 5000mAh battery is claimed to be good for up to 2 days, with support for 15W fast-charging and Qi wireless charging. The Cat S75 runs Android 12 at launch, and Bullitt said will provide two OS updates and 5 years of security patches for the device.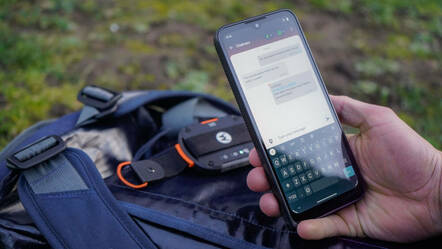 The Motorola defy satellite link (above, in the background) is a Bluetooth device that enables other iOS or Android smartphones (foreground) to use satellite messaging
For those who fancy satellite messaging and SOS Assistance but not a ruggedized phone, Bullitt is offering the Motorola defy satellite link, a Bluetooth dongle that provides access to the Bullitt Satellite Messenger service for any Android or iOS device (iOS 14 or later, Android 10 or later).
Bullitt describes it as a "tough, pocket-friendly device" and said it has also passed Mil-Spec 810H testing and is waterproof and dustproof with an IP68 rating. The dongle features a handy attachment loop for hanging off a belt or rucksack, and the 600mAh battery is claimed to be sufficient for multiple days of use.
The Motorola defy satellite link will be available from Q2 2023 via international retailers, and will be priced from $99 / €119 / £99 for the device only. A bundle including a one year subscription to the Essentials Messaging service plan (up to 30 two-way messages per month and SOS Assist) will start at $149 / €169/ £149.
For the Cat S75 handset, this is available to pre-order now from selected operators and retailers in EMEA, from €599 / £549 including a 3-month free trial of the Bullitt Satellite Messenger Essentials service plan which includes up to 30 direct-to-satellite messages per month.
Both devices will be on show at the Bullitt stand at MWC, while the Motorola defy satellite link will also be on show by Motorola's parent company, Lenovo. ®