Tech
Fujitsu wins £5m contract to support the UK's troubled Border Crossing system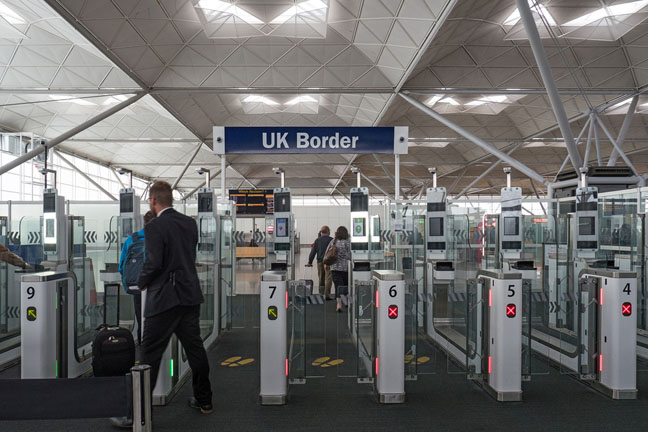 The UK Home Office has handed Fujitsu a £5m contract to support a border system beset with delays.
The Border Crossing system provides a "watch list" for agents to check passengers against.
Under the terms, Fujitsu's contract runs from 4 September 2021 to 2024, according to the award notice.
The project is part of the Home Office's Digital Services at the Border programme, which has been dogged by poor performance and additional costs. In December, the National Audit Office (NAO) judged that the Whitehall department had added £336m to the cost of border management IT systems by delaying implementation from 2019 to 2021-2022.
The Border Crossing system was built by CACI Ltd, under a £5m agreement which was set to end on 30 July 2021. That contract has been extended to July 2022 at a cost of £4m-£7m, confirmed a tender document published earlier this year.
It was one of the better projects in the Digital Services at the Border programme, according to the NAO. Overall, the programme "lacked clear objectives, a timetable for delivery and a budget," it said. But while other projects including Advanced Freight Targeting Capability and Advance Border Control systems offered little by the initial March 2019 deadline, a pilot Border Crossing (version 0.3) system had been implemented.
The Home Office planned for 56 ports to be supported by Border Crossing from July 2021 but since the first pilot it has struggled with technical delivery.
In December 2019, six out of the seven pilot ports were using it to check fewer than 20 per cent of passengers. In March 2020, the programme board suspended Border Crossing to improve system stability and support. It had been available for 54 per cent of the days it was in live operation. The department told the NAO an increase in technical capability and resources meant it could now deliver the programme.
The timetable for implementation "far exceeds the scale and pace of rollout it achieved with its previous version of Border Crossing, although its approach to rollout has been informed by it," the NAO said.
The timing of the Fujitsu contract raises some questions. If Border Crossing went live in July as planned, who was supporting it before 4 September 2021? Maybe it was CACI Ltd, but the company was contracted for "delivery" rather than support. If Border Crossing has not gone live, what's the reason for the delay? The Register is waiting on a response from the Home Office.
Regardless, the project is vital to post-Brexit arrangements. From July 2021, the Home Office planned to check at the border whether EU passengers have settled status in the UK.
From October 2021, it also plans to prevent most people travelling to the UK on an identity card rather than a full passport, the NAO said. "To do this, it will need to have Border Crossing in full operation with the ability to check passenger status, otherwise Border Force officers will need to make additional checks on existing systems which might cause disruption and delays."
Fujitsu will be no stranger to the workings of border projects. It already maintains the 26-year-old Warning Index system Border Crossing was set to replace and had £63m worth of contracts to support it until April 2022. ®
Source link