Tech
Multicloud, yes or no? Former PayPal head engineer weighs in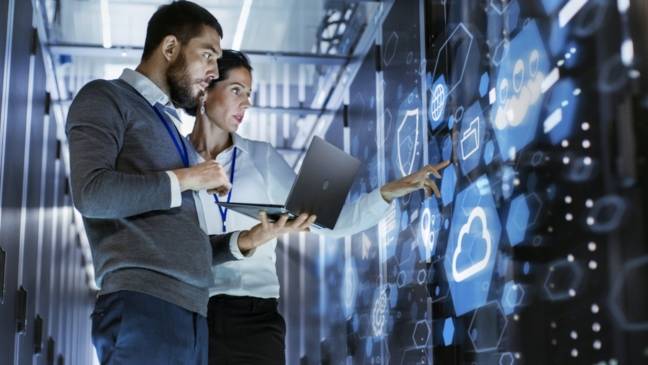 The push is on to get every enterprise thinking they're missing out on the next big thing if they don't adopt a multicloud strategy.
That shove in the multicloud direction appears to be working. More than 75 percent of businesses are now using multiple cloud providers, according to Gartner. That includes some big companies, like Boeing, which recently chose to spread its bets across AWS, Google Cloud and Azure as it continues to eliminate old legacy systems. 
There are plenty of reasons to choose to go with multiple cloud providers, but Asim Razzaq, CEO and founder at cloud cost management company Yotascale, told The Register that choosing whether or not to invest in a multicloud architecture all comes down to three things: How many different compute needs a business has, budget, and the need for redundancy. 

Considering compute and calculating costs


Razzaq is former director of engineering for PayPal's internal platform, as well as director of engineering for X.commerce at eBay, all of which were built to run on-prem. Since that time, he has been giving consideration to cost, performance, and scalability, no matter where applications are running without getting too locked into a single strategy.
What he does add into the mix are some generalizations about what tends to run best on certain clouds.
"Google Cloud tends to be better at analytics and some of the machine learning aspects of things, Azure and AWS tends to be pretty good in terms of the coverage and core infrastructure, and Azure tends to work well – if you're a Microsoft shop," Razzaq said. "There's no one-size-fits-all solution. Everything is a trade-off."
Razzaq told us, and Canalys cloud research analyst Blake Murray agrees, that modern hyperscale cloud providers like AWS, Google and Microsoft have built solutions to support multicloud architecture, in essence connecting more closely to their competition. "Overall, technology is becoming increasingly integrated and customers are looking to utilize the benefits of a more connected ecosystem. The hyperscalers see the value of interoperability and are leaning in to create competitive solutions," Murray told The Register. 
It's also important to think architecturally, too: If you're considering multiple clouds and your architecture isn't abstracted into containers and microservices, a multicloud environment is going to be tough to migrate to, Razzaq told The Register.
Razzaq also said that businesses shouldn't hesitate to toss some data or an app into another cloud for testing purposes – he said doing that is a great way to end up with a future discount on existing services. 
"Putting some workloads in a second provider can give you some more leverage in negotiation to say hey, we can put certain additional workloads in another partner, so you better give us a better discount," Razzaq said.
Murray notes that, while dealing with multicloud is part of every cloud vendor's business, it's only at the scale of massive enterprise spend commitments, which often also include time commitments, that multicloud options will have an effect on discount negotiations. 
Moving data from cloud to cloud can also get quite expensive, Murray told us, and noted that going all-in with one provider can create opportunities for discounts, too. 

Redundancy is required


Some services are necessary for a business to operate, while others simply aren't. Razzaq said when he was at PayPal, core services like login and payment processing had failovers, while less important systems like coupons and analytics surveys didn't necessarily get that level of uptime guarantee. "The practical approach is to build redundancy for critical services," he said. 
It's not enough to do that, Razzaq said, if you simply choose another cloud provider with a datacenter in the same city, or on the same power grid. "A lot of times these things have a ripple effect; one service goes down, another dependent service goes down, and now you're in big trouble. Build redundancy in another cloud and a different region."
Relying on separate providers may not be the right approach to redundancy, Murray told The Register. "Although there are many benefits, multicloud environments usually come with increased complexity," Murray said. Cloud providers are also quite good at providing redundancy on their own, he added. 

Should anyone avoid multicloud?


Gartner said that many companies choose a multicloud strategy for the same reasons Razzaq cited: Increased agility, modular architecture, and cost optimization among them. The tech analyst also agrees with some of the reasons Razzaq told The Register it's best to avoid a multicloud environment.
In particular, both said that investment in a single platform can deepen expertise in a particular technology stack, which Razzaq said is ideal for businesses with a singular focus, like retail companies. 
Murray agrees that the choice between multicloud and a single provider is less about industry and more about workload. "Single cloud environments require a singular skillset, do not run risks of performance issues across clouds, reduce costs of any potential migration across clouds and reduce administrative complexity," he said. Murray also cited compliance and data sovereignty in industries like banking and healthcare as reasons to avoid a multicloud strategy.
So, is multicloud right for your organization? That'll take a lot of careful consideration of a lot of factors. At the end of the day, if there's any doubt as to the necessity of having multiple cloud providers, it might be best to just stick with one. ®