Tech
Punchy Biden-lookalike grandad goes viral for fighting boxing gadget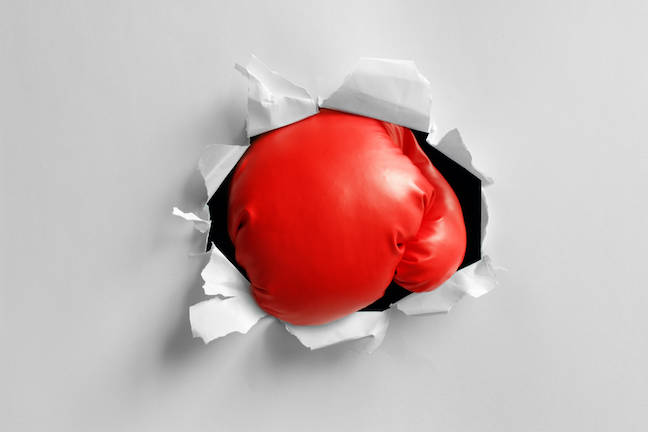 An 80-year-old Lancashire grandfather has gone viral on TikTok and Instagram in a video featuring him squaring off with a sparring aid for boxers.
The video (see here) of Bob "Bruiser" Smith of Bamber Bridge near Preston ducking and diving around the Sparbar sparring device has received over 90 million views across the two social media sites.
The pugilistic pensioner – who was a fighter in his youth but banned from the ring by his father at the age of 14 out of concern for his safety – is treating his unexpected global fame with refreshing indifference.
"I'm taking it all with a pinch of salt. It's come as a bit of a shock and it's nice I suppose, but it's only on the internet, which I don't bother with," he told the Lancashire Post. "I don't do this social media thing. I think I'm a bit too old for that sort of stuff."
The clip came about when Smith's grandson, 21-year-old Louis "Golden Boy" Brow, current Yorkshire welterweight boxing champion and Sparbar ambassador, set the device up and asked his granddad if he fancied trying it out.
"I had a go on this bit of equipment to see how I'd do, the family put the video on the internet and it just went silly after that," Smith said.
Smith's family feel his resemblance to a certain famous, equally punchy septuagenarian has not harmed his internet popularity. "I think he's big in the States because he looks like Joe Biden," explained Bob's son-in-law Mark Brow.
To be honest, we at the Register presidential resemblance desk feel that the Biden similarity is pretty distant, but then we've never seen Joe Biden fighting a sparring machine, so maybe we're just missing it because of that.
Smith does not seem to regret being forced to give up boxing by his father at a young age, telling the Post: "He'd seen lots of people hurt during the war and didn't want me hurt in the boxing ring. That was it, so I took up cycling. I still love watching boxing on the TV, but the fighters are getting bigger and bigger these days – they weren't like that in my day."
But with his new-found global internet fame, his son-in-law says that he may restart his long-dormant career: "He said he's even considering coming out of retirement should Floyd Mayweather decide to take on a fighter with a bit of experience – over 80 years of it."
Boxers of, shall we say, advanced years have a somewhat patchy record in the ring. After being knocked out by Muhammad Ali in the legendary "Rumble In The Jungle" in 1974, George Foreman retired three years later.
But after a religious conversion that saw him become an ordained minister he returned to the ring and eventually regained two of the numerous different heavyweight title belts at the age of 45, after knocking out Michael Moorer – a man 19 years his junior – in 1994. He retired for the second time in 1997 at the age of 48 in order to concentrate on his subsequent career as a kitchen gadget entrepreneur.
On the other hand, 58-year-old former world heavyweight champion Evander Holyfield recently came out of retirement to fight former UFC mixed martial arts champion Vitor Belfort in an exhibition match in Florida. The match was moved to Florida at late notice after the boxing authorities in the state of California refused to sanction the fight due to Holyfield's advanced age and the fact he had not fought for 10 years.
The resulting match ended with Holyfield suffering a technical knockout in the first round, having been knocked down twice in what one furious critic described as "a terrible farce". The match, incidentally, was commentated by former US president Donald Trump, on the 20th anniversary of the 9/11 attacks.
Bluntly assessing his own boxing skills at the age of 80, Smith summed up his approach to facing the Sparbar doohickey: "When I tried it I discovered if you don't get your timing right you get whacked round the back of the head with it. It's hard to do, it's all about speed and co-ordination."
So maybe not, eh? ®