Tech
Raided at gunpoint: Cops swoop on home of ousted data scientist who created her own Florida COVID-19 dashboard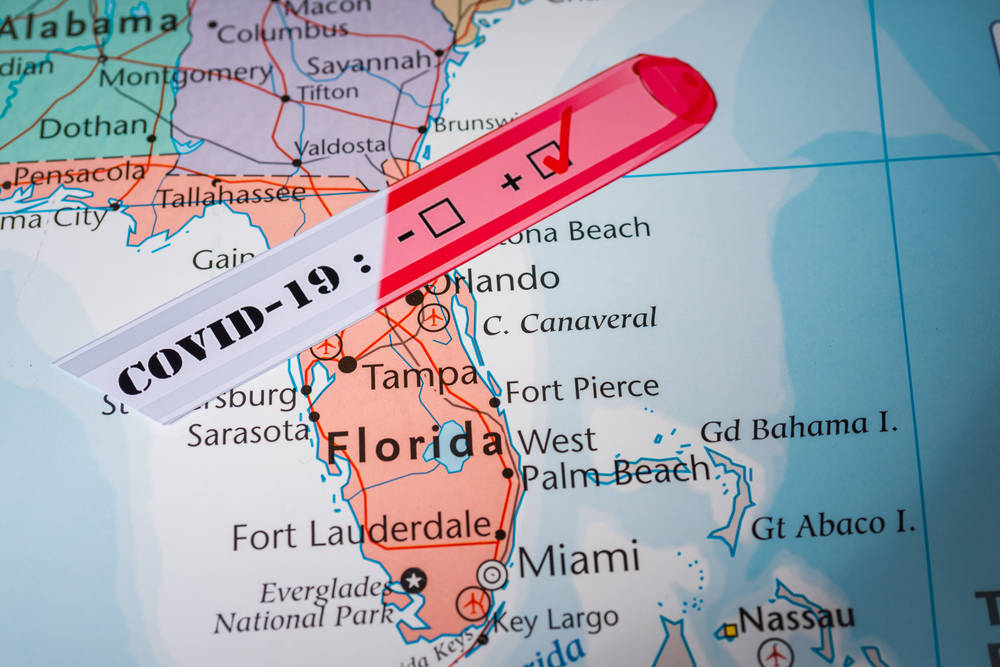 Florida police on Monday morning raided the home of coronavirus data scientist Rebekah Jones, and seized her electronics at gunpoint as part of a computer hacking investigation.
Jones previously built a website displaying up-to-date COVID-19 virus infection stats for Florida's Department of Health while working as a geographic information system manager for the department's Division of Disease Control and Health Protection. But in May she says she was fired for refusing to massage the numbers so that the Sunshine State didn't look quite as riddled with the virus and could justify reopening businesses.
The official explanation for Jones' departure was that, according to a spokesperson for Governor Ron DeSantis, she "exhibited a repeated course of insubordination during her time with the department."
Jones then decided to set up her own COVID-19 dashboard, which frequently reported a higher number of cases than the Department of Health's site.
This week, cops armed with a search warrant entered her home at 8am, and pointed guns at her and her family before taking all her electronic devices. A short video clip posted on Twitter shows her yelling at officers not to point a gun at her children.
1/

There will be no update today.

At 8:30 am this morning, state police came into my house and took all my hardware and tech.

They were serving a warrant on my computer after DOH filed a complaint.

They pointed a gun in my face. They pointed guns at my kids.. pic.twitter.com/DE2QfOmtPU

— Rebekah Jones (@GeoRebekah) December 7, 2020
The Florida Department of Law Enforcement said it had a search warrant for her phone and computer after Jones' previous employer, the Dept of Health, filed an official complaint against her, and said officers spent 20 minutes discussing the situation with her at her door before entering the family home. The reason for the dramatic swoop? It's alleged she hacked into a department computer system, and the cops are on the hunt for evidence, the Tampa Bay Times reported.
Specifically, it's claimed Jones allegedly accessed an emergency messaging system to send an alert asking staff working at the State Emergency Response Team to speak out against the department's attempt to squash the COVID-19 figures.
The message reportedly read: "Speak up before another 17,000 people are dead. You know this is wrong. You don't have to be a part of this. Be a hero. Speak out before it's too late."
IT workers join elite sports stars, fat cat biz execs, celebs and posties for special treatment under England's COVID-19 travel isolation rules
Investigator Noel Pratt said the note went out to approximately 1,750 accounts. In an affidavit, he said the IP address of the computer used to transmit the alert was traced back to Jones' home address. She denies any wrongdoing.
"Hacking is not something I ever thought they would accuse me of because I have never displayed any capability of doing that," she told reporters. "I've never taken any computer courses or anything like that. I do statistics in a software program designed basically to do all that stuff for you by clicking stuff."
Jones, however, believes her devices were seized because they contain evidence of the state covering up vital coronavirus data, and pointed the finger at Florida's Gov DeSantis (R).
"They took evidence of corruption at the state level," Jones claimed. "They claimed it was about a security breach. This was DeSantis. He sent the gestapo." Jones has been publicly vocal about the way the state reports its COVID-19 data, and has accused it of "deleting deaths and cases" to make it look like Florida was steadily improving.
"The most damning stuff that they are going to get from that equipment is the information about all of the employees from the state who have talked to me over the last six months," she said. "And, the fact that I promised them I would never tell anybody who they were, or where they worked and I have failed to protect them, really f****** pissed me off."
Jones and the plod were not available for immediate comment. Florida's Department of Health declined to comment. ®