Tech
There was hope Samsung had turned a corner in repairability, but the Galaxy S21 Ultra is a step backwards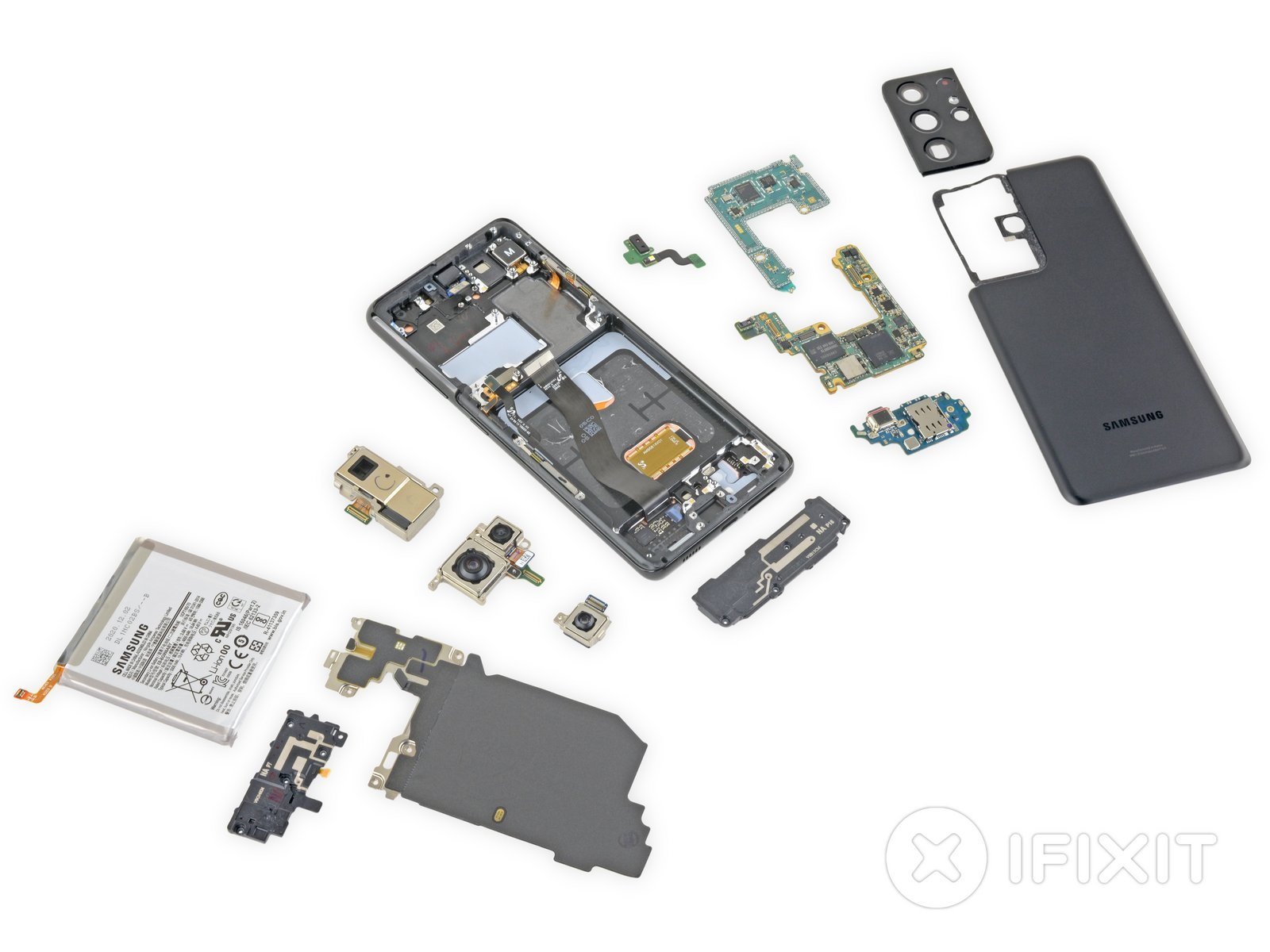 iFixit – an organisation with a toddler-like proclivity for breaking phones – today published its teardown of Samsung's latest and greatest: the Galaxy S21 Ultra.
While the phone itself has managed to impress reviewers, things are less rosy from iFixit's perspective and the right-to-repair outfit complained about the complexity of otherwise routine repairs.
One of the biggest hurdles, it noted, was accessing the phone's innards. The first step in any repair involves removing the Galaxy S21 Ultra's glass backplate. This is firmly glued in place. Prying it off first requires a generous application of heat, as well as a delicate hand. Glass is fragile, after all, and even the Gorilla Glass Victus used here isn't invulnerable. The phone's massive camera bump made it more fiddly and forced iFixit to use a "lateral pick manoeuvre" to yank it free.
With the backplate removed, iFixit was able to poke around the guts of the phone. Samsung won points for the modular design of the logic board, which is split into two components, camera apparatus residing on a separate daughterboard and another module for the lenses. iFixit also praised Samsung for using identical Phillips screws throughout the phone.
But then Samsung lost its brownie points. What's that lurking behind the battery? Oh yes, more glue. And unlike the iPhone, the Galaxy S21 Ultra doesn't use elegant pull-tabs that allow you to remove the adhesive without additional tools. Rather, the teardown crew was forced to drench the underside with isopropyl alcohol and gently lift it out with a guitar pick.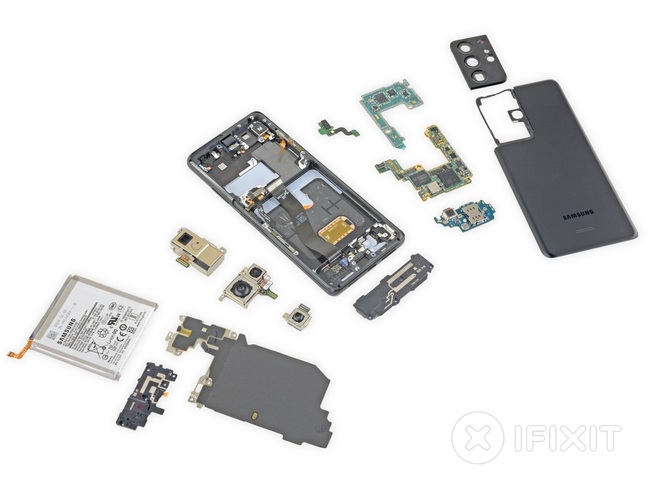 Samsung Galaxy S21 Ultra splayed out
For obvious reasons, it's neither sensible nor desirable to melt this adhesive with a heat gun, unless you're willing to risk another Galaxy Note 7-type fiasco. (Note to iFixit: Have you considered making your own branded fire extinguishers?)
iFixit said that performing routine repairs requires a "fair bit of disassembly." Whereas replacing the battery on the iPhone 12 is straightforward, doing the same on the Galaxy S21 Ultra requires a full Professor Robert Winston-style autopsy.
Samsung, in fairness, has never been known for making third-party repairs easy. But there was a genuine hope that it had turned a corner with the Galaxy S20 series. The entry-level Galaxy S20 was regarded as a genuine improvement in terms of repairability over its predecessor, thanks to its sturdier plastic back, which made accessing the internals less perilous.
It's reasonable to argue that repairability isn't much of a concern for average bods. We'd counter that by noting the average phone upgrade cycle has elongated dramatically in recent years. Analyst house Gartner put it at somewhere between 2.5 and 2.8 years for "premium" devices, like the Galaxy S21 Ultra. Additionally, Samsung has started providing three years of software updates for much of its Galaxy line-up, suggesting this lifespan could stretch further.
Lithium-ion batteries degrade over time, and that process is accelerated by the fast-charging tech now ubiquitous in the premium Android sphere. As you approach the end of the phone's lifespan, there's a reasonable chance you may need to replace the battery with a fresh one. And that's saying nothing about other common mobile mishaps, like broken screens or camera lenses.
Repairability may seem unimportant, but it can determine whether you can cheaply perform a fix yourself, or how much it'll cost to pay someone to do it for you. It might make the difference between you keeping your existing phone, or having to replace it with a fresher model. ®
Source link